Orgy Advice for Women
Orgy advice for women includes dress code and etiquette tips for beginners and experts alike.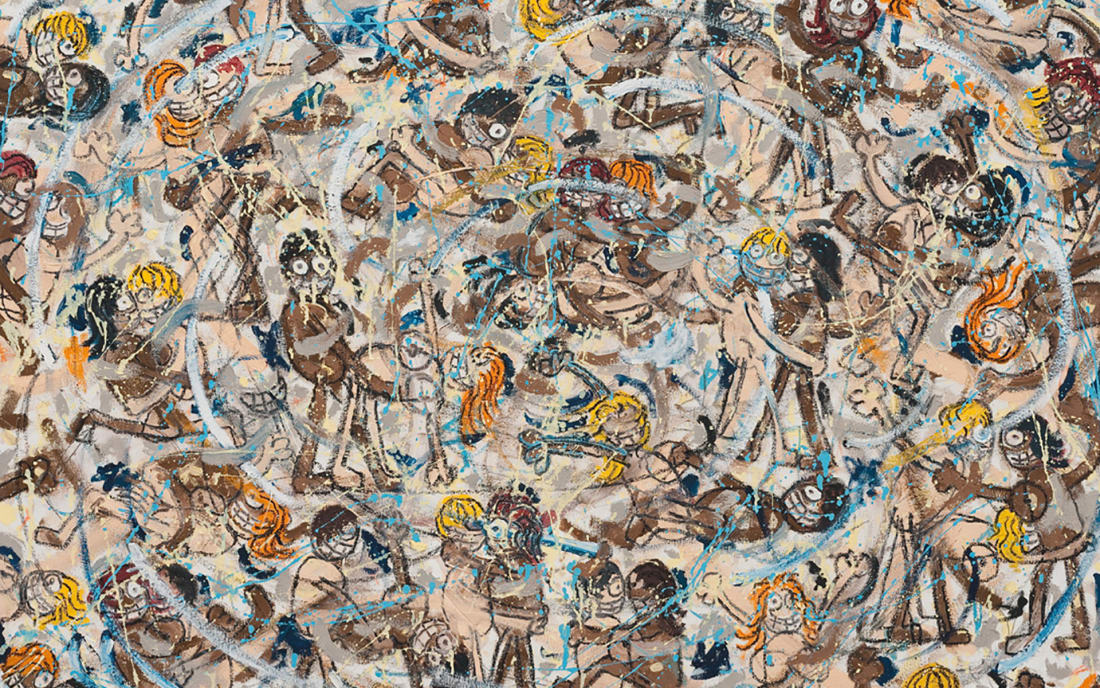 Forewarned is forearmed. At least that's what Tracy Cabot, a well-known writer on sex and relationships believes—especially when it comes to orgies. She has presented us with comprehensive orgy advice directed toward women. Girls like to have a little (or a lot) of fun too! Am I right?!
Women outnumber men almost two to one in many parts of the country, and we've learned that the female sex drive is just as strong as little Johnny's next door. Swinging is an accepted way of life for many people in relationships, and you must know at least one couple who swears that the act has held their relationship together. Okay, so it's not like an invitation to the senior prom— you were sure you wanted to go to that. Still, the idea is titillating. You would like to see what it's like—just once.
You've fantasized about having all the sex you want, wondered about two men at once, or three, or four, or five. About a woman. You're curious about how other people do it, or what other women look like naked. And it would give you a chance to diversify—a chance to squeeze the fruit before you buy it.
Company is Key
If you're madly in love with the guy who asks you, think carefully before agreeing. You must be prepared to watch him make love to another woman. It's hard enough the first time you see a guy you don't even care about going off into the back bedroom with another female. But if it's someone you love...things may get rough. On another note, jealousy is considered tacky at orgies.
A friend of mine will never forget one orgy where there was a woman whose husband had talked her into coming, even though she didn't want to participate. When she saw her husband doing another woman, she freaked. It ruined the party for everyone.
The best person to go to your first orgy with is a good friend—a man you trust and wouldn't mind sharing with a girlfriend, or even with a girl you don't like. But he must also be a guy you have some sexual feeling for, because you might get there and discover that your date is—after all—the best one available. The ideal orgy date is a friend with whom you've had sex sans romance.
Don't forget, your date has a problem, too. He may have been waiting years for someone to invite him to a real orgy. "We're having a little party tonight and there'll be swinging. We'd love to have you, but you have to bring a girl."
That's his dilemma. Who to ask? It's hard enough for some men to ask a girl to dinner and the movies, let alone to an orgy. But without a date he can't get in; a female is the golden ticket into this sex factory.
Assuming you're mildly curious, be sure to make your own deal before you accept. Tell him, if you're the least bit unsure of the whole situation (and who isn't about her first orgy?), that you'll only go if you can take your own car. Then you can leave if you don't like it. You could also make him swear he won't leave your side the entire evening, or alternatively that you won't see him again until you're ready to leave. He'll meet your terms because without you, he can't go.
Naturally if it's your first orgy, you're going to be nervous. You'll wonder about what to wear and what's going to happen. What if you meet someone you know?
In many ways, the orgy is just like any other social event. When you walk in the door, you're trying to make a good first impression. But here you face an additional burden of having to greet naked people without staring directly at their breasts or penises. It is also necessary to try not to lose your poise if there's a couple in view in some stage of lovemaking.
Dress Code Tips
Wear something that makes you feel especially attractive and sexy. Something that calls out to be fingered, like satin or velvet, is always erotic. You won't want to be a wallflower.
Forget your bra and anything in the way of tight underwear that would leave a mark if you decide to take it off. The amount of clothing you wear should be directly proportional to your modesty. If you think going naked is right for you, wear a long dress with nothing underneath. This solves the problem of lost underwear, and it gives you less to worry about. Leave your jewelry at home.
In some circles, it's de rigeur to take off everything but your underpants. At any given orgy, you'll find girls who wear a negligee all evening, and some who do everything in boots. Naturally, if you take off everything but your boots, you'll attract a different kind of man than if you walk around in a long, flowing gown. At least one or two girls will walk around naked all night, but those will be the few with exceptional bodies.
What strikes me about orgy-goers is how very few of them have really beautiful bodies. The women tend to camouflage their figure faults. A lady with sagging breasts or big thighs will devise an artful way to drape them. But the men let it all hang out—literally. Potbellies, bow legs, sunken chests and all. The hardest thing to get used to is the way their genitals, all different shapes and forms, just bob along.
Try to be casual. It's okay to grip your date's hand with your sweaty one. Nobody but him will know. But do try not to look as if he's holding you up, or be so entwined in his arms that every guy in the room knows that you're a lost cause.
Come Prepared
There's always the possibility of STDs, and cleanliness is one of the best preventatives. Come prepared and bring condoms to prevent any accidents.
The best security you can have is knowing you aren't committing yourself to be penetrated in any way by anyone. Nobody is going to attack you. Invitations to go into the bedroom will range from the subtle exchange of looks to a "let's fuck." You may not be invited back in a hurry, but no one is likely to ask you to leave if you choose not to participate. There are always people who are not participating, indisposed, or resting—so you won't be lonely.
Plan to arrive early—not more than an hour after the party's appointed starting time. Being late for an orgy is not like walking into a regular party where all you have to do is drink a lot to catch up. The lighting will be dim and romantic, there may be finger food of the non-garlic variety, and, with luck, the people will be mostly attractive.
The host will almost always be nude or seminude. This is calculated to put everyone at ease and set the pace for the evening. He'll also be the first one to disappear into the back bedroom; you know how hard it is to get a couple on an empty dance floor.
He will show you where to put your clothes if everyone is already undressed, but you are under no obligation to strip.
If your host doesn't point out a particular spot for you to leave your belongings, find a place yourself. A corner might be a good choice, or put your things under something low, like a table where it's unlikely that anyone will be getting involved in a lot of physical activity. The last thing you want is to pull your clothes or purse out from under a lovemaking couple.
For some reason, people at orgies are more friendly than at regular parties. They talk to each other—not just their dates. Sit down in the center of the group you like best, and it won't take long for you to make friends.
Mutual Attraction
If you see someone you like, smile and say hello. When you do that, it may be an open invitation to carry the relationship further. The guy will usually come over to you to show he's interested. Then there'll be the usual party exchange of names and addresses accompanied by more body language than conversation. He may put his arm around you, touch your hair, or make other sexual overtures to find out if you're interested.
You can encourage or stop him through your reaction. If you don't respond, he needn't feel rejected because he hasn't actually asked. If he does ask and you haven't made up your mind yet, or even if your answer is no, the best thing to say is, "not right now, thanks.'' Memorize that line. I've tried all the others and that's the only one that'll get you off the hook without hassle. It leaves his ego intact and he's free to try for another girl.
At an orgy, if a man goes off to the bedroom with another girl, that doesn't mean you've lost out. Most men present will be capable of making love with more than one woman in an evening. Often it's the last girl who gets the best, because he's gotten over the initial anxiety over that first orgasm and can relax to take his time with you.
The sexual activity may vary from casual and low-key to hanging from the chandelier. At larger parties, there's more likely to be a big group grope, which takes place in the master bedroom on a huge king-size bed. I've seen up to 15 different pairs of arms and legs sticking out of a pile. It's interesting to see how people dissolve into body parts and come out whole again. Joining in has got to be like your first time off a ten-foot diving board.
Smaller parties of ten to 15 couples will be quieter. The sex scene will hardly ever involve more than two couples in a grouping, and for the most part, one guy and one girl to a bed is the rule.
If you can hold your jealousy intact or make an agreement with your date, an orgy can add an extra something to your lovemaking. There's nothing more erotic than the sights and sounds of other couples' orgasms. It can spur your lover on to greater heights. Each person has a little of the exhibitionist in him, and he won't be shy about letting others know how good he really is.
Considering the fact that in a lifetime, the average person sees many acts of violence and sometimes not one single act of love. Therefore, the orgy can be a worthwhile experience.