Filthy is powered by Vocal.
Vocal is a platform that provides storytelling tools and engaged communities for writers, musicians, filmmakers, podcasters, and other creators to get discovered and fund their creativity.
How does Vocal work?
Creators share their stories on Vocal's communities. In return, creators earn money when they are tipped and when their stories are read.
How do I join Vocal?
Vocal welcomes creators of all shapes and sizes. Join for free and start creating.
To learn more about Vocal, visit our resources.
Show less
Fitness MILF
Alana Evans needs her stamina!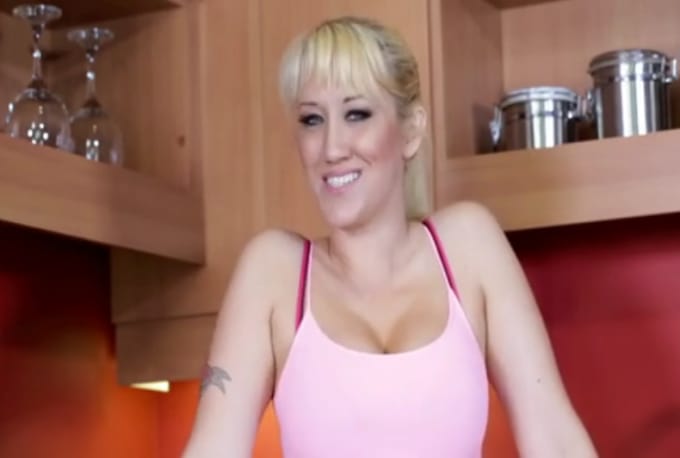 Today I'll be reviewing a scene from porn site VinceVoyeur.com which is fairly new to me as I haven't came across it before. The scene is actually from a DVD entitled 'Fitness MILFs' which was released back in 2013.
Alana Evans gets down and dirty in this reality porno detailing the lives of the fitness MILF. The fitness MILF is an idea men have about gorgeous mature women who are moms and have a "gym lifestyle."
A Bit Innocent?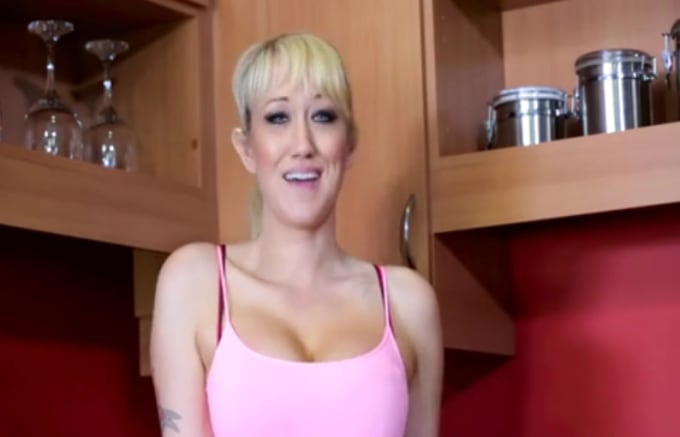 This film takes it a bit further by creating the idea that these attractive fitness mom's favourite sport is that had between the sheets of a bed. It's a clever set up and basically has the gorgeous Alana Evans detailing her male preference; which sounds like any but is particular sexy.  She introduces herself as a mom of 36 years old who likes to keep her body "tight."

The idea is to make her sound rather "slutty" which is good as unfortunately men do like the idea of a slut. One thing is for sure is that it makes for a good porn film and although Alana can sound pretty sleazy at times it makes the crotch area jolt!
Alana goes on to detail how she likes both the men and the boys; stating she doesn't mind showing the boys "where it goes."
Maybe Not...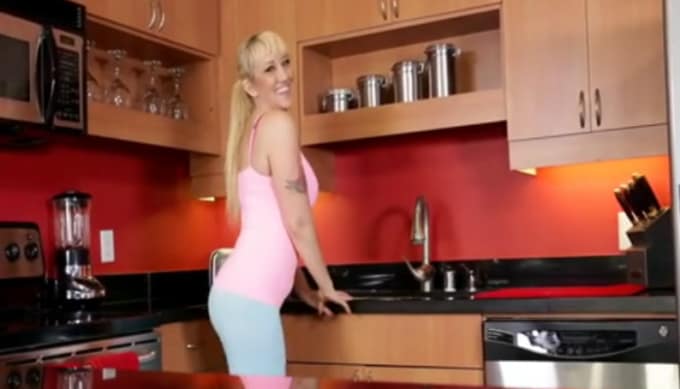 Alana then goes on to explain that "Once a boy has been with her, that she's probably ruined him for every other woman" implying her filthy antics are great. It's good material and a good idea from the director although Alana does this awkward laugh after every statement she makes. Alana states she likes the younger guys because they have so much energy and stamina.
"My milkshake brings all the boys to the yard..."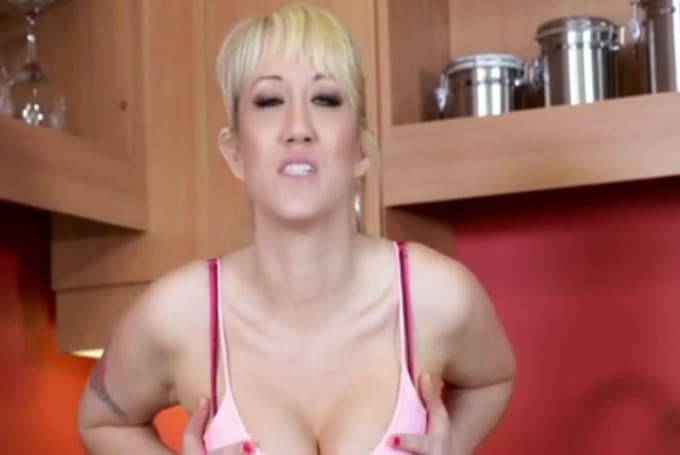 Alana Evans recently appeared on an MTV reality show called My Parents Do Porn, which sort of makes this double saucy as it appears she's actually married too. I'm not sure how her husband feels about watching such a dirty scene but I hope he's ok with it. The 36D-26-39 MILF starts eating a banana which gives her dirty thoughts (one might argue she doesn't need a piece of fruit for that).
She starts scrolling through her phone, dismissing men who "cum too fast" before finally finding a desirable male in there. Some bits are a bit cringe worthy; Alana starts doing a little dance at what point but most of it is good.
Feeding Her Appetite...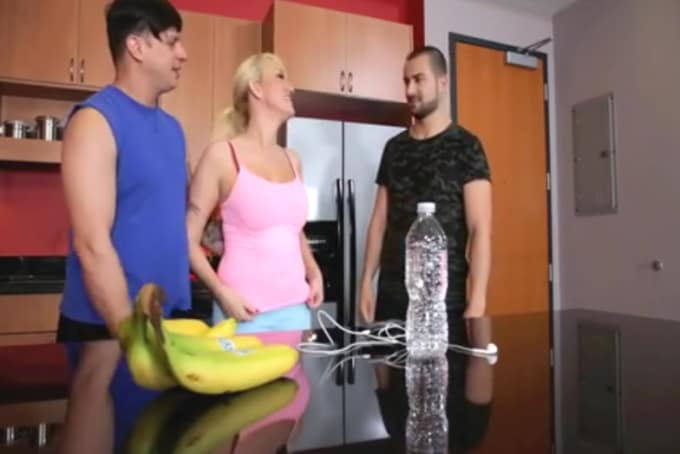 Enter Italian-American Anthony Rossato who looks like he's also just finished a gym session with his Italian buddy. Anthony is a solid performer who normally does a good job acting too. He explains to Alana that his buddy is looking to get into porn but doesn't know if he has what it takes. While Alana gets acquainted with the Italian , Rossato pounces on her and she coos with delight as he does.
Have you got what it takes?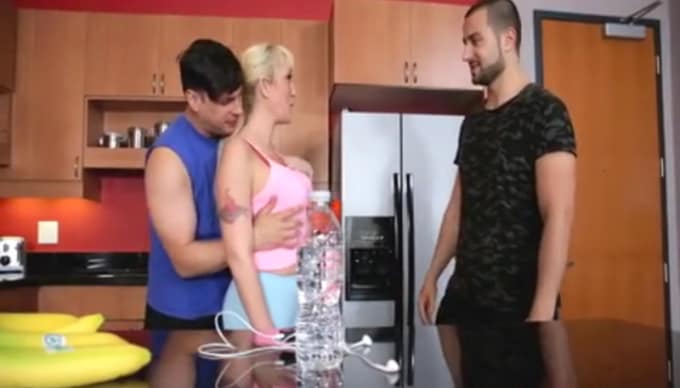 It's not long before she has Anthony's pants down and starts giving him a blowjob while his friend looks on. She's particularly filthy Alana, spitting on Anthony's shaft and licking his balls. Looks like she wants some more pasta when Anthony's buddy gets in on the action and Alana is impressed by his shaft giving him the same treatment. If these people had really just finished the gym and were having sex, I can't imagine it would smell too hygienic. What Alana does next may make you question that anyway. The two guys drill her in the doggy position on the couch, getting a good feel of her breasts. Alana talks to them as they do which makes all the more arousing. I think there's some truth to this scene as Anthony takes over the action, spooning Alana and decides to stick his shaft in her arse hole. It appears Alana loves it, squealing with delight but one can only shudder when she decides to blow him afterwards. It's made twice as bad when she says "Hmmm I can't still taste my ass."
I had to look away for a moment as it was a bit too much for me. Yet if you're into anal then there's a bit of 'gaping action' in there for you. Alana must really be into it as I was enjoying the cowgirl position for her to spoilt it again by putting it back in her arse. Don't get me wrong its a delightful muscular rump which Anthony enjoys slapping but I don't think it needs to be fucked. 
The Brown Instead of the Pink?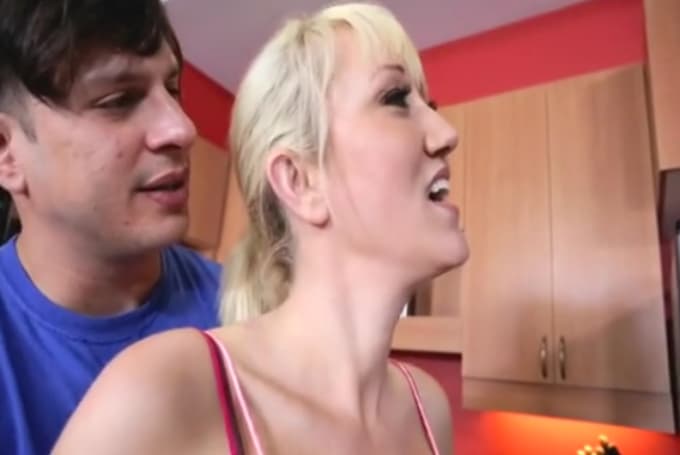 The money shot is good, the Italian can't stop himself and absolutely drowns Alana before Anthony gets his turn. It's not a bad scene and can be found on VinceVoyeur.com although I picked it up on whorestepmom.com for free. Although there's too many gross out moments for me to watch it again, anal sex people might enjoy it.  I'd like to give this 3 out of 5, filthy sex, but might be a bit too filthy for some.
3 out of 5