Filthy is powered by Vocal creators. You support
Hannah Pat
by reading, sharing and tipping stories...
more
Filthy is powered by Vocal.
Vocal is a platform that provides storytelling tools and engaged communities for writers, musicians, filmmakers, podcasters, and other creators to get discovered and fund their creativity.
How does Vocal work?
Creators share their stories on Vocal's communities. In return, creators earn money when they are tipped and when their stories are read.
How do I join Vocal?
Vocal welcomes creators of all shapes and sizes. Join for free and start creating.
To learn more about Vocal, visit our resources.
Show less
XXX Feminism
An Investigation of Pornography in Relation to Intersectionality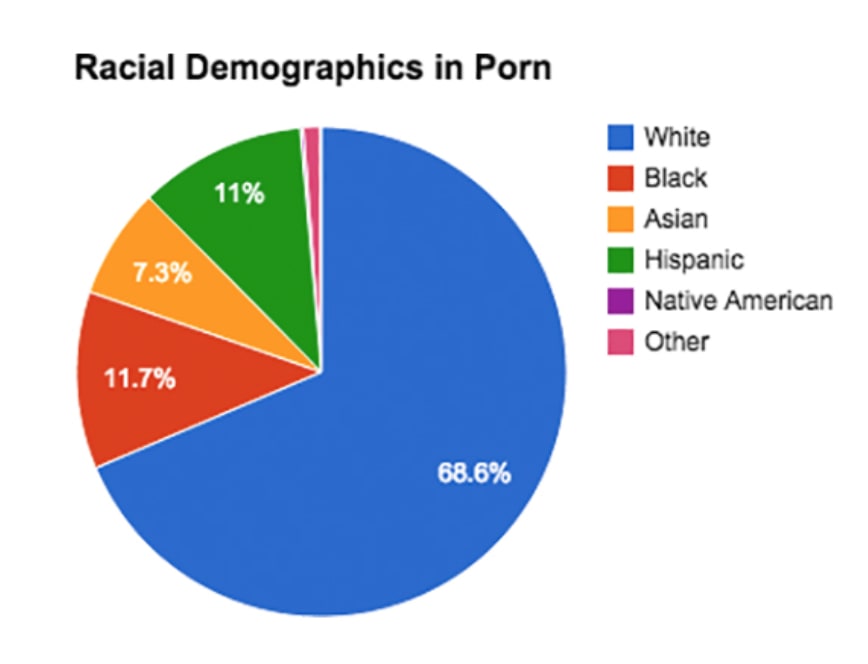 Right this second, 729 people are watching porn. Right as you read this. And that's only counting PornHub, due to their generous supply of statistics, leaving out the hundreds of other popular pornography websites out there on the world wide web. In the modern day, where taboos are constantly being poked and prodded, that's not much of a surprise—or necessarily a bad thing. But it is something about which we need to be responsible.
If you're alone, go to the private browser on your phone or computer and type in "pornhub." On the homepage, you'll likely notice a majority of the porn stars you see are white, young, physically-abled women. If you do see people outside of this conventional standard of beauty, it's likely not for the right reasons (we'll get to this later). If the problem with this isn't clear, you're likely within this conventional standard of beauty yourself (which is fine! Go you!) What does it say when people who have visible disabilities are never in porn? Does it mean that they're not deserving of the same sexual fulfillment other people are? A 60-year-old black women would have to search long and hard for porn that would satisfy her as well as make her feel good about herself. Lack of representation perpetuates an "otherness" surrounding the underrepresented community. But everyone wants to belong. Everyone wants to feel sexy and confident. Should porn be expected to consider diversity in its representation?
Of course it should! But it doesn't. Porn isn't produced to please everyone. It is filtered for men; typically of the white, heterosexual, physically-abled, and young variety. It's crucial to note that all the under-representation of race, age, physical disabilities, and so-called attractiveness affects people of ALL genders, including men. But for the men who fit the conventional standards, porn is created to fit within their narrow vision of what's acceptable and desirable. For such a large industry, you would think they'd be aiming for a larger audience.
Some readers might be unconvinced about porn's lack of racial diversity. "How can it be such a big problem when there's entire categories on sites titled "Asian" or "Ebony"? That's representation!" Here I, very firmly, pronounce the following: fetishization is not representation. These categories exist to satisfy fantasies for an exotic or even forbidden sexual experience. The very act of categorizing content of people who aren't white is dividing them from the norm, establishing the sense of "otherness" which intersectionality strives to eliminate. This is also relevant for lesbian porn, which is ironically directed at men, invalidating lesbians and their sexuality, which wants NOTHING to do with men.
The porn industry can be attacked for almost every issue. In a society that feeds off sex, that's unlikely to change anytime soon. Although, certain initiatives by porn companies deserve recognition. PornHub recently started a campaign to normalize periods with a video on the bloody subject, foregoing the typical tongue-in-cheek style of addressing periods our timid culture is used to. "Fuck Your Period" talks about the relationships between periods and sex, with or without a partner, which overall validates the women's sexual identity separate from her partner.
However, this means very little to women who don't have a period or have grown out of their period. Still, it shows that there may be some progressive instincts in the spearheads of the porn industry. Maybe one day we'll be lucky enough to see them make porn better for everyone.