Filthy is a community on Vocal, a platform for discovering and supporting creators. You support this creator by reading, sharing and tipping stories. more
What is Vocal?
Vocal is a tool for artists and creators to fund and build community around their creative practice.
How does Vocal work?
With Vocal, people subscribe to support creators on an ongoing basis. In return, creators open the door to their creative practice — by sharing their process, notes from the field, in-progress previews, and other rewards. It's a way for creators to build a community of dedicated and meaningful support around the work they make.
How do I join Vocal?
Right now, we have some early guidelines for the scope of Vocal. Vocal is for the continuous funding of creators, whether people or collectives, who have a creative practice in one or more of our supported categories: visual and performing arts, film and video, publishing, design and technology, music, comics, food and craft, and games.
To learn more about Vocal, please visit our FAQs.
show less
Why to Use Natural Condoms
Keeping it "au natural" has never been easier than using natural condoms.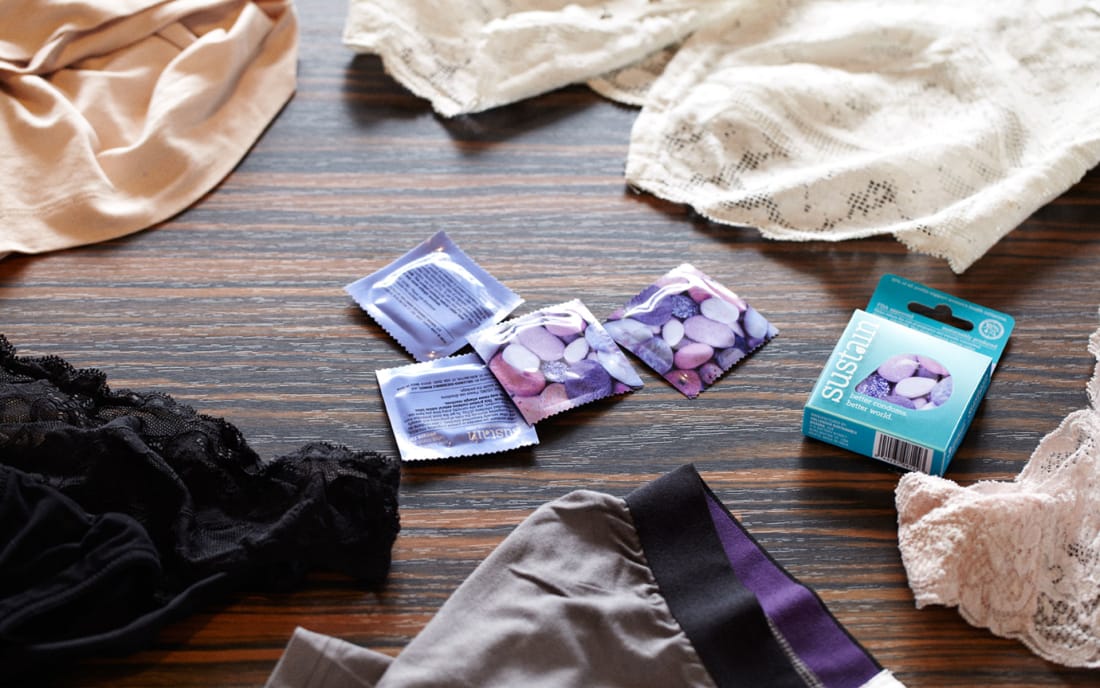 With virtually all men using condoms these days, there remain a lot of unanswered questions: Which type provides the safest protection against disease? Which allows the most feeling? How do you put it on without losing spontaneity? The condom has come into its own as a contraceptive. Men and women alike—the smart ones at least—are beginning to think of the rubber as a friend, not a nuisance.
For many years condoms were regarded as a bore or a real drag at best, a semi-illicit birth control device at worst. They were stored behind the pharmacist's counter, spoken of in whispers, and giggled over in locker rooms. Today, condoms are widely advertised, have their own display racks right out in the open in most drugstores, and are even given away for free on college campuses and at clinics. Vending machines, once confined to truck stop johns, now grace the rest rooms of both sexes in trendy watering holes and numerous singles bars.
The condom is part of the erotic paraphernalia of most bachelors and many couples. Yet, many of the people who buy them are uneasy about their use. Old sexual thought patterns about the wearing of condoms as a duty and a chore still interfere with a practice that can be, if approached in the right frame of mind, erotically stimulating.
Nothing is ever guaranteed, of course, but the savvy swinger will go with the odds—and as far as sexually transmitted diseases go, the odds remain heavily in favor of condom use. An FDA commissioner once reported to the Los Angeles Times that the average failure rate for condoms is at about 12 percent. Combine condom use with female contraceptives and the odds seem to be in your favor.
It's all a matter of "layers of protection." That's a phrase often used by  a sexologist and safe-sex researcher affiliated with San Francisco's Institute for the Advanced Study of Human Sexuality. The safest form of sex is the first layer—the kind involving no penetration. The second layer of safety is condoms plus spermicide. The third layer is just plain condoms. 
Most condom manufacturing in the United States is done by two giant firms: Church & Dwight (Trojans) and Ansell Limited (LifeStyles). The Japanese have been in on it for some time and several smaller companies are importing and promoting their products. This may be a case of where buying American really is the best bet.
The man or woman who has decided to make condoms an integral part of his or her love life faces an almost bewildering variety of choices on the market. Most of them are attractively packaged under photos of blissful couples. Where rubbers used to be labeled "for family planning" or "for prevention of disease only" they now bear slogans like "For feeling in love" and names like Embrace Her or Pleaser.
Sustainable Condoms
But what exactly is the buyer getting? Most rubbers are just that—super-thin pieces of vulcanized latex rubber. An alternative to the norm, especially for the environmentally conscious, is a condom brand that focuses on sustainability. Can one be passionate about condoms? You can if you are Sustain. Jeffrey Hollender, CEO of Sustain, is passionate about sexual wellness. His mantra "We are here to create change," is part of an ongoing movement to see sexual wellness as hand in hand with condom protection. A unique approach to condom marketing, Hollendar supports birth control free of medical prescriptions. A birth control free from government politics. Protection is a mutual responsibility between couples. "Sustain is about recognizing connections, taking on the system not the individual problems." Sustain donates 10 percent of the company's profits to women's health initiatives.
Latex Allergies
Another alternative to the typical latex condom is Trojan's Naturalamb. They are made of lambskin, the animal's intestinal membranes. These are best option for individuals or couples who are allergic or sensitive to latex. The problem with lambskin, doctors have said, is that the cells in animal fiber are laid down unevenly. Some condoms will be fine, but others will form cracks where seepage can occur. He recommends them only to those allergic to latex, and then in conjunction with a spermicide.
However, there are other options for those with latex allergies. Depending on the severity of the allergy, natural latex condoms can be used by those with latex sensitivities and less intense latex allergies. Those with full-blown latex allergies should also experience allergic reactions to bananas, avocados, kiwis, erasers, and spandex. So for those of you who have an allergic reaction to a condom but can eat bananas, the allergy more than likely comes from chemicals used in the manufacturing process. Using natural latex, like that used in Sustain products, should solve the problem without forcing you to use animal-based condoms.
Ultra Thin Condoms
As a way to accommodate those who don't necessarily enjoy condoms because they feel it interferes with the feeling of sex, ultra thin condoms are available. Sustain's Ultra Thin condoms maintain the same exceptional safety and quality standards as their other products while heightening sexual experience for both partners. Still just as reliable as the original condoms, they are very thin to allow for maximum feeling and enjoyment from both individuals.
Storing Condoms
Most condoms have a shelf life of five years, and start to deteriorate slowly after two and a half. The date of manufacture is printed on every box of condoms sold. So remember this the next time you start grabbing around in the back of your bureau and come up with a pack you forgot you had. Condom strength can be adversely affected by heat, strong light, and rough treatment. Don't leave them too long in your wallet or glove compartment.
Lubricant
Condoms come either lubricated or dry, though lubricated is the the most popular choice. Some men feel the dry ones stay on better and prefer to add their own lubricant in the reservoir tip. Medical professionals, however, insist that the more lubrication, the better. The most frequent reason for breakage, doctors state, is lack of adequate lubrication.
With latex condoms, it is recommended to use only water soluble lubricant. Oil-based lubes, such as petroleum jelly, can damage the latex. Most packages carry a warning to that effect. For this reason, Sustain chooses to use exclusively organic lubricants. Both on their condoms and in their bottles of lube, Sustain's Organic Lubricant is enriched with aloe vera and is designed to nurture skin. It is also tailored to be biocompatible with a woman's vagina, preventing any irritation. 
Making Condoms Sexy
Now the sticky question: how to eroticize condoms? Silk is sexy, satin is sexy, and leather is sexy. But these little blobs of latex have to have sex appeal laid on them.

First of all, you have to unlearn years of sexual conditioning that said wearing a condom was like taking a shower in a raincoat. Get to know what a condom feels like before trying one out with a woman. Put it on and masturbate in it. Use your erotic imagination. Fantasize that it's Julia, the cute girl you just met on the bus, or that foxy new secretary who is lovingly putting it on you.
Put some lube in the reservoir tip (the exact amount is a matter of trial and error, but it's well worth the effort to find out). Place it on your penis head with the rolled side up, then roll it all the way down to the base of your penis. There are rubbers that fit snugly around the root, functioning like a cock ring, making your penis harder and your orgasms more intense. Sustain's Comfort Fit condom does just this, enhancing sexual experience while allowing for greater freedom of movement. Experiment until you find the condom that you're most comfortable with.
See how much thrusting various kinds of condoms can take (this can be done with hand or fingers). Get used to regulating the amount of pressure.
If you've practiced like this beforehand, you will feel much less awkward when the moment of truth arrives with a woman you've just met or someone you're being intimate with for the first time. When you're both eager and panting for penetration, you don't want anything to break the spell.
And never say anything like "Well, I guess it's condom time," or "Goddamn rubbers. I hate 'em." Avoid any kind of negative connotations, any desire-deadening downers. It's not likely, by the way, that a woman these days would be offended by your using condoms in the first place. She will likely have one in her purse as a back-up plan.
Be playful. Let her do the honors and roll the rubber down your pole. If she's the kind of woman who's turned on by the look and the feel of what makes a man a man, she'll jump at the opportunity.
Using Condoms Safely
During intercourse, be sure not to penetrate beyond the rim of the rubber, as it can unroll further with each of your thrusts. And after ejaculation withdraw while your dick is still hard. You may miss that warm afterglow of staying inside her while you hold her in your arms—but you've got to give up something. You don't want to risk any leakage.
When you've withdrawn, take off the semen-filled condom and toss it in the garbage. Do not try to recycle it or flush it down the toilet. This admonition may sound like the punch line of a joke, but there are people who would try to do just that.
Get in the habit of thinking of condoms as a sex device you want to use, something that will heighten the pleasure of you and your woman. Experiment, fantasize, communicate, use your considerable erotic imagination. You'll soon learn how to turn the cold spinach of condom use into the tasty quiche of mutually satisfying sex. Choose your favorite brand and keep it on you. If you have a regular partner, be sure that they're a fan as well before buying in bulk, but being prepared with a condom you are both happy to use will make embracing use that much easier.
We recommend the natural and sustainable condoms and lubricants from Sustain, and believe that one of the best ways to show your love is with an intimate gift of Sustain condoms. 
Variety Gift Set by Sustain
Make the world a better place with sex. Your lover will thank you for the care gift. The gift set makes the perfect addition to a bedroom celebration. Safe and secure, you will receive one Ultra Thin 3-pack, one Tailored Set 3-pack and one Comfort Fit 3-pack in the organic cotton "Turn Me On" gift pouch. The pouch is great for keeping all your small treasures.
Lubricated Ultra Thin Condoms by Sustain
Sustain's Ultra Thin condom offers more pleasurable sex and heightened sensitivity. The FDA approved it, and you know how they are about testing products rigorously. Your partner will enjoy the odorless and free of nitrosamines sexual experience.
Lavender Organic Lubricant by Sustain
Organic Lavender Lubricant by Sustain is long lasting, natural, and leaves no mess. Infused with organic aloe vera and scented with a clean lavender aroma. Both healthy for your skin in its most sensitive area, it enhances sexual pleasure. The formula is biocompatible with the body chemistry of a woman. She will thank you for the concern.