Filthy is powered by Vocal creators. You support
Lena Bailey
by reading, sharing and tipping stories...
more
Filthy is powered by Vocal.
Vocal is a platform that provides storytelling tools and engaged communities for writers, musicians, filmmakers, podcasters, and other creators to get discovered and fund their creativity.
How does Vocal work?
Creators share their stories on Vocal's communities. In return, creators earn money when they are tipped and when their stories are read.
How do I join Vocal?
Vocal welcomes creators of all shapes and sizes. Join for free and start creating.
To learn more about Vocal, visit our resources.
Show less
What BDSM Isn't #1
The Truth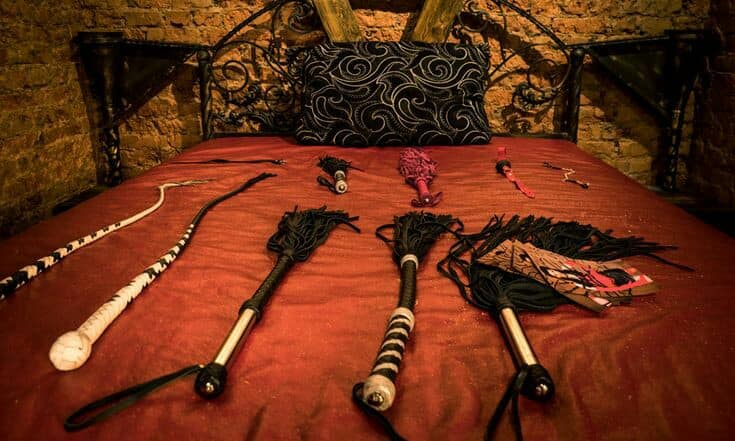 So in one of my past posts I talked about how BDSM isn't abuse but there are so many more lies that people believe about the lifestyle. If you don't understand something you shouldn't judge it. There are some people that are in the lifestyle or have been in the lifestyle that don't understand what it is. There's also people who were in it and then had bad experiences or just really didn't like it and they badmouth the lifestyle. There are people who are doing it wrong and they give it a bad name. Yes, there is a way to do BDSM wrong, and we will talk about it through here.
Let me start of by addressing the abuse or domestic violence thing again. For some people the lifestyle involves some stuff that maybe looked at as abuse or violent. These things may include hitting, slapping, paddling, choking, name calling and being degraded. The thing about it is in an abusive relationship these things happen without consent to control the one partner or instill fear into them. Anything that happens in a BDSM relationship is consented to. People also misunderstand the power exchange to be abuse, which it isn't. If you want to go more into detail I wrote about this subject on my page in a post.
I'll also go over Fifty Shades of Grey again too since we are here. Fifty Shades of Grey is crap. The main problem Christian Grey himself. He is way too controlling to be a real dom and he pressures Anna more than he educates her. He stalks her and had so many issues. Again, I wrote about this in a previous blog on my page on here.
One myth that people also believe is that there is no way you can be primarily vanilla with a little kink mixed in or primarily kinky with vanilla elements mixed in. This is wrong because people like to do kinky once in awhile to keep things interesting or mix it up, but they don't want to go all the way to the BDSM side. If you are into BDSM you can have moments of vanilla in the relationship like dates and adventures. You can't be tied to the headboard all the time or just having sex in the missionary position all the time either.
BDSM is not a fetish. BDSM is about bringing the kinky fetishes into the relationship on a regular basis. A fetish is just something that excites you sexually. It can also be defined as something that you do instead of "traditional sex." A lot of couples in BDSM are into it because they have a lot of fetishes or they want to have the fetish in their relations regularly. 
People believe that males are dominant and women are submissive. Those people are wrong. Males can be submissive and women can be dominant. They also don't have to be strictly one or the other, they can be this thing called switch where you go in between both. I think a lot of men are dominant and a lot of women are submissive but that's not the case 100 percent of the time.
Another myth people believe is BDSM is dangerous. Honestly, it can be dangerous if people don't know what they are doing. It can also be dangerous if people are using it to abuse people. There are parts of the lifestyle that need training, like anything involving fire, being confined, knives, ropes, or hitting.  It can also be dangerous if someone is using the lifestyle to prey on people. There have been people who have gotten raped and hurt or abused in the lifestyles. Obviously the people who are hurting, raping, abusing, or preying on people in the lifestyle aren't true BDSM people. Those who are doing wrong don't belong in the lifestyle.
We can't do much about the wrong kind of people in the lifestyle. We can make sure that the true lifestylers don't get mixed up with the ones who aren't in it for the right reasons. We can warn people of the fakes and abusers. If we do, maybe the fakes and abusers will run out of people to hurt and leave the lifestyle. 
BDSM isn't all about pain and sex. Sure there are some people who are in it for the pain but that isn't the only thing that the lifestyle has to offer. There's some stuff that causes pain but not bad pain. It's also not all about the sex. It's the idea of something else getting our motors running, that can cause pleasure. BDSM adds something to the sexual side of someone's life or relationship. 
That dominants are abusive people and a submissive is someone that has low self-esteem are two very popular myths. Dominants are not abusers, they have boundaries given by their submissive. An abuser uses their power to make their partner afraid so that they have more control but a dom uses their power to empower their sub to be a better sub. Submissive types have more self esteem then people realize. We are submissive types because we like giving up power and control to someone else. Some subs do have low self esteem and think they deserve the abusive doms. This also leads to another valid point; some subs are former abuse victims so they think they deserve to be controlled. The difference is that in a BDSM relationship the control is safe.
Another myth that vanillas believe is that the lifestyle is all about manipulation, mind control, and brainwashing. That is not true; we all have a choice to be in this lifestyle and any dynamic we choose. Now good mind control may be a small part of it. What I mean by good mind control is you have to make sure that you and your partner aren't going to a dark place. Can you help them not go to a dark place? No, but you can help them get out of it.