Weirdest Sex Toys You Can Buy on Amazon
As a sex writer, I have seen some really messed up, bizarre stuff. Today, I'm going to discuss the weirdest sex toys you can buy on Amazon.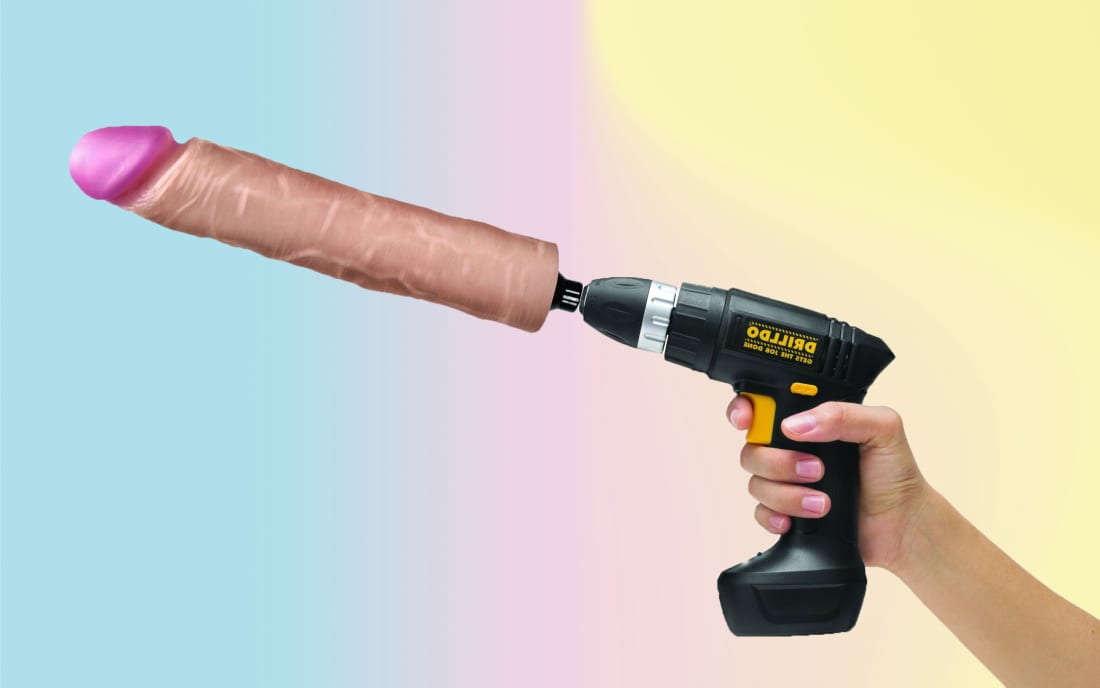 Hi. I'm a sex writer. I also basically live on the internet. Like many denizens of the net, I have seen a lot of stuff when it comes to strange sex toys.
Most sex toys out on the market are a bit strange if you think about it. I mean, even things like double-sided dildos are kind of odd in their design. However, most sex toys for couples are still relatively normal in the scope of things.
There are other toys out there, though, that are really weird. They are so weird, they might actually be somewhat traumatic to look at. Don't believe it? Look at this collection of the weirdest sex toys you can buy on Amazon.
David the Werewolf by Bad Dragon
If you're a fan of Twilight, chances are pretty high that you've fantasized about having sex with the studly, muscular werewolf known as Jason Black. Well, furry-focused sex toy company Bad Dragon have just what you want — a werewolf penis.
I'm not really amazed by the fact that there's a werewolf penis on the net. Furries are gonna be furries. What's amazing about this is that it's relatively tame on this list of the weirdest sex toys you can buy on Amazon.
Oh, and if you were craving Jacob's peen, I hope you're happy with yourself.
Fox Tail Butt Plug
Admittedly, this is cute, particularly if you dig the whole anime kitsune-girl thing. Anime girls are a fetish, you know, and some of them do the whole cat ear/fox tail thing pretty cutely.
It's a butt plug with a tail, and for the sake of an article on the weirdest sex toys you can buy on Amazon, this might be as tame as it gets.
The Wavy Egg by Tenga
You know what turns on most men, visually? A nice butt. You know what doesn't turn on men visually? An egg. Japanese sex toy company Tenga didn't seem to get the memo — and that's why they have made a series of male masturbators in the shape of an egg.
Eggs. I don't know about you, but I'd start questioning my lifestyle choices if I walked in on my man fucking an egg.
That being said, Tenga's egg line is one of the most popular male masturbators on Amazon. Many of them have rave reviews, and for that, I really can't judge or hate too much.
Rex the Dog by Bad Dragon
Oh, and another one of the weirdest sex toys you can buy on Amazon also has a "doggie" theme to it. Bad Dragon's Rex dildo leaves nothing to the imagination on that one. The dildo is shaped exactly like a dog's member.
Like the other unusual entry from Bad Dragon on this list, Rex the Dog comes in a variety of sizes. So, if you like to be dangerously furry or just want to get your beastiality on...there's this.
(Note: Feel free to buy me a beer if you think I've seen enough weird sex toys for this thing.)
The Crush Electro Press Board by Master Series
Guys, you might want to skip this entry. It's pretty gruesome. CBT, if you're not in the know, is Cock and Ball Torture. This device, which is both one of the weirdest sex toys you can buy on Amazon, as well as one of the most painful, is meant to crush a man's testicles and allow someone to stomp on his penis.
Did we mention that this board is electrified, too? If you're male and winced reading this, don't say I didn't warn you. Love hurts — and for guys who are into this, that's a literal statement.
Electrosex Urethral Sound by Zeus
Another one of the weirdest sex toys you can buy on Amazon combines CBT via electrocution, and sounding fetishism into one neat little package. Sounding is a fetish that involves things getting inserted into one's pee hole.
Electrostim involves sending electrical currents to your genitalia, breasts, or other body parts to achieve orgasm. We can't help but feel like this is a bit dangerous, and not only because of that song warning us not to whiz on the electric fence.
Could it be that the description mentions it's "not for beginners" twice? Might be. Or, you know, it could be the whole, "sending electric currents down your pee hole" part. We're not sure.
The Geisha Stroker by Nasswalk
I may have made fun of the egg a bit presumptuously. This thing is actually somehow less attractive than the egg. The Geisha Stroker, as it's called, is a blob that is supposed to be in the shape of a geisha woman.
Unfortunately, it looks more like a blob that's shaped like a kneeling grandma. If you ever wanted to have sex with a 6-inch tall lump of flesh colored silicone that loosely resembles a miniature of your granny, Nasswalk has managed to make all your (highly questionable) dreams come true.
Glow in the Dark Ladies Night Fuck Hole by Pipedream
This thing looks like...well, I don't really know what it looks like. A plant? A...thing? Well, whatever the hell it looks like, it glows in the dark and you can have sex with it. So, in that sense, it's kind of like banging a stripper at a rave.
Why is it that so many of the weirdest sex toys you can buy on Amazon are oddly-shaped male masturbators?
Tokidoki Pocket Pleasure by Lovehoney
Remember the uproar when people heard about the Hello Kitty vibrator back in the 90s? Sanrio was derided for taking its kawaii mascot to unclean places after it came out.
It seems like Tokidoki is the new Hello Kitty when it comes to taking kawaii culture a bit too far. This is a kawaii art version of a pleasure cup/egg masturbator.
Need we really say why this is one of the weirdest sex toys you can buy on Amazon right now? I mean, who'd want to masturbate into a Tokidoki figurine?!
Oh, and they also have a Tokidoki Women's Vibrator there, too. So, at the very least, we know that neither Lovehoney nor Tokidoki discriminates when it comes to slapping adorably corporate artwork onto sex toys.
My Diletto Sex Chair by WEA
This is a hand-operated fuck machine that has someone sit in the chair and pull the levers that control the dildo's pivot. It's definitely one of the weirdest sex toys you can buy on Amazon, if only for appearance alone.
Getting this sex chair means that offering your date a seat will have much different connotations at home. I don't really know what else to say. It's a penis shaped chair that fucks you. That's pretty strange.
Eh, I guess you could also buy this chair as a less-than-polite way to tell bad in-laws to sit on it.
The Drilldo Starter Set by Drilldo
When most people see power tools, they don't think of sex — unless they're the guys who made that Benny Benassi video. However, the people at Drilldo have no problem admitting they go hard when they decide to play.
The Drilldo is a kit that allows you to turn your favorite power drill into the sex toy of your dreams. Sure, it might scramble your insides a bit, but what do you expect? It's a drill with a dildo attachment.
Speaking as someone who's heard friends talk about it, this is ideal for people who experience Hitachi Magic Wand-related desensitization. Because, if you're going to overindulge, you might as well go to ridiculous excesses.
Please tell me I don't have to explain why this is one of the weirdest sex toys you can buy on Amazon. Moving on...
The Alien by Fleshlight
When you watched Avatar, were you one of the many guys out there who made a mental note of looking up Rule 34 of Navi's afterwards? If so, you're going to love this blue pussy. Fleshlight came out with a Freaks Series that included a blue alien vagina.
Note: Awesome Navi hair-tentacle-penis not included.
The Incredible Hunk Dildo by Doc Johnson
"HULK SMASH!"
If you want to get smashed by the Incredible Hulk, Doc Johnson's got something fun for you. This dildo was made as part of a series of geeky, Marvel Comics-themed sex toys. Other options allowed you to get hammered by Thor or blast off with an Iron Man themed dildo.
Though some might argue otherwise, this is one of the weirdest sex toys you can buy on Amazon — and it's also one of the geekiest sex toys I've seen.

The Sailor Moon Wowlife Crystal Wand by Sex Factory
Once again, kawaii makes for some of the weirdest sex toys you can buy on Amazon. This time around, sex toy makers made a spoof of Sailor Moon's heart wand. This glass masturbator is long, and will give you all the powers of the moon...
If moon powers mean orgasms, anyway. It's cute, it's glass. It's probably one of the more normal-ish things on here. But still, it's kinda weird looking at this Sailor Moon-themed wand without wondering if you went too far with kawaii culture.
Admittedly though, this is one of the cutest sex toys ever created — and is as close as I'll come to eyebleach while writing this article.