Wacky Sex Toy of the Week: 'The Hand-Job Cocksheath'
Get ready to get handy!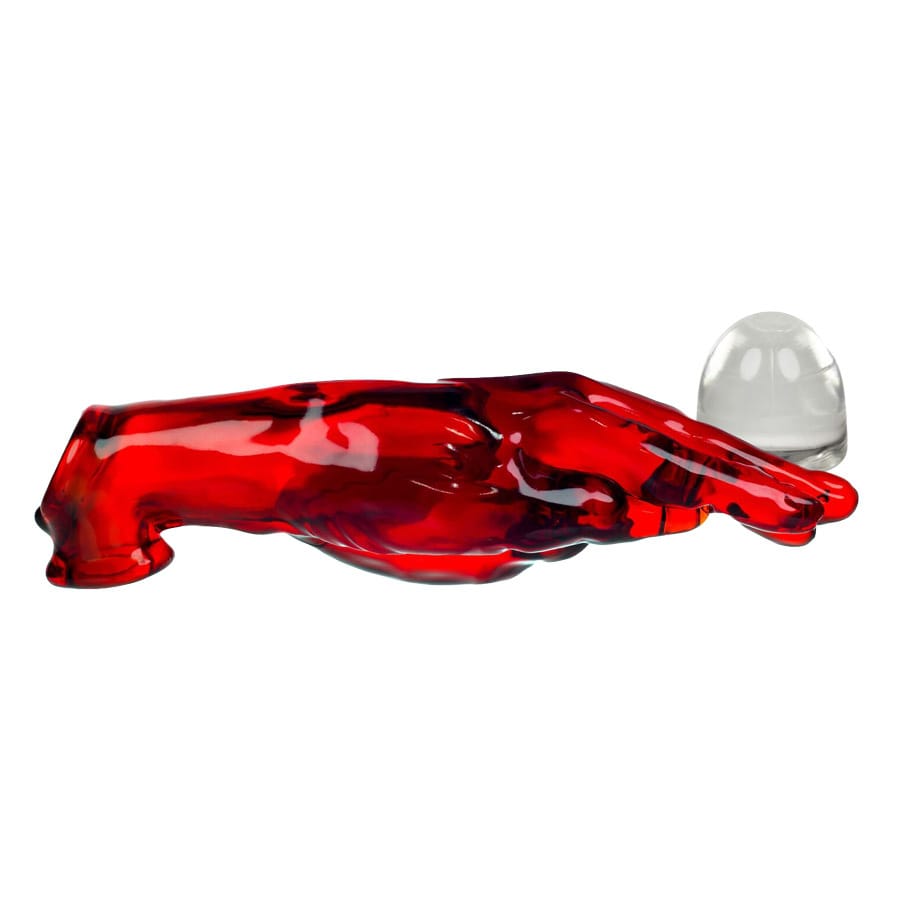 Missing your regular dose of weird and (dubiously) wonderful sex toys? Well, let me assuage your worries, because Wacky Sex Toy of the Week is back, we're ---- well, sort of beige, really ---- and we're ready to give all you loyal readers a hand. No really, a hand. Like, with fingers. That kind of hand.
All right, let's back up a bit. First off, do you know what a cocksleeve is? If you don't, let me explain. If you do . . . well, I'm explaining anyway. It's a sort of contraption that straps over (and around) your dick, often using the testes as a sort of anchor point. Generally, this contraption is shaped like a much bigger dick, so you get the fun of kinda bangin' the middle of this foot-long faux-schlong while watching said penile prosthesis penetrate your partner.

It Also Comes In Grey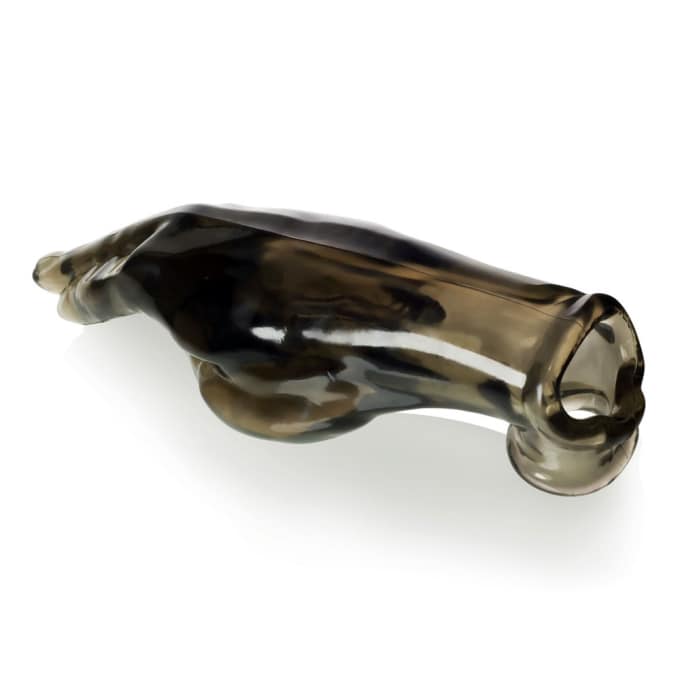 If you really want to get exciting with it, you can go on a speciality site and buy one in a fantastical shape, so you can pretend you're Dickus McSchwing the Horned COCKatrice and your partner gets to imagine that they're being ravished by a legendary beast. All very well and good, provided everybody's into it and nobody gets too excited and tries to up the realism by breaking out something like spiked body armor or chunks of raw meat. Or, for that matter, pyrotechnics.
This wacky sex toy is a cocksleeve (or, as the manufacturers call it, a cocksheath), but it's not shaped like a dick, fantastical or otherwise. No, this particular wang-wrapper is shaped like a full-sized adult hand. It's called the Hand-Job. No, I'm not kidding. And while we've had some truly disturbing-looking toys featured here in the past ---- shout-out to the Ovipositor Dildo and Mike's Spikes ---- nothing so far has really reached the same level of sheer absurdity as a large and erect hand (thumb helpfully tucked below the enthusiastically outstretched coming-for-your-soul [or should that be 'hole'?] fingers) protruding from where one would expect to see a similarly erect member.

New With (Your?) Package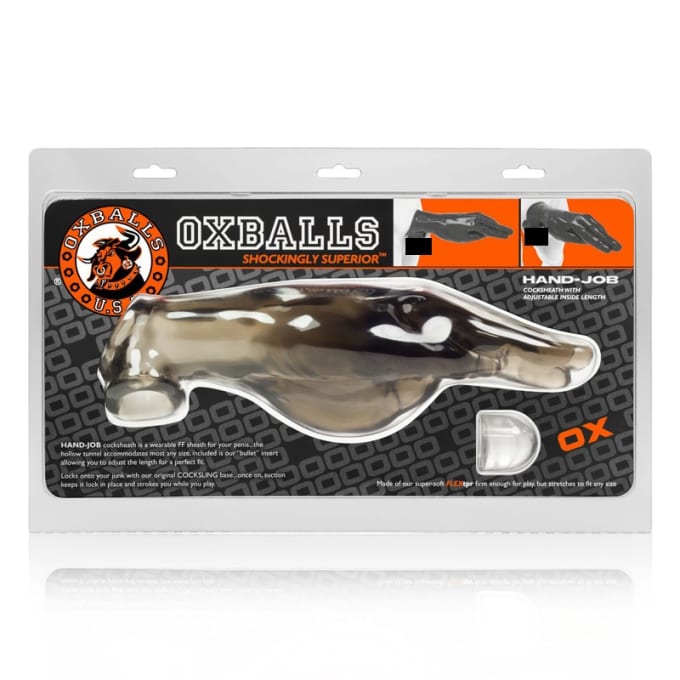 All right, the Pogo Stick Dildo might've come close, but even that wasn't quite on this level of peculiarity. No, with the Hand-Job, not only is the outward visual confusing and disturbing to the eye, you also get the additional imagining of the inward visual. To which the answers are: 1. yes, you are supposed slip your partner a hand, as it were, presumably with vim and vigor, 2. yep, you had better practice a bunch before strapping up and getting down, and 3. no, I don't know how you're supposed to cope with what must be some truly intense testicular tuggage. You have a whole hand tethered to your balls via a relatively thin loop of rubber.

And Again In Red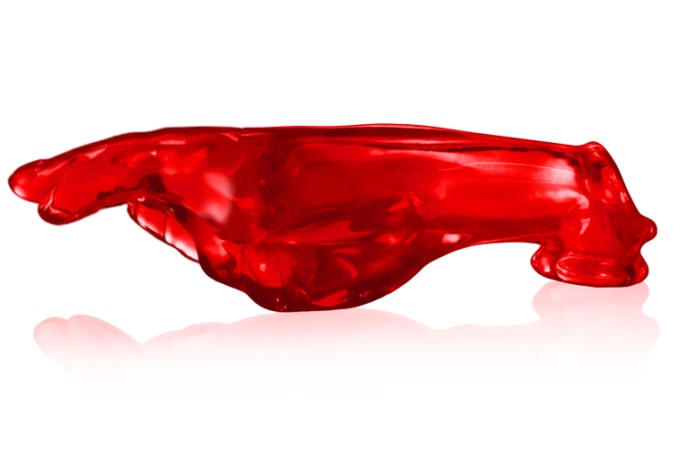 That's gotta be some serious torque. Not only is it pulling in one way, it's also going to be hauled back and shoved forward with the motion of the ocean (as it were), so users might want to throw a bag of peas into the freezer for a little post-boning cojones coolage. Maybe grab a couple of ibuprofens and one of those donut pillows for good measure. (Your choice on whether to tell the doc what you want one for).
This is usually the moment in the article where I'd point out that some people may have been waiting for this very product and thus were incredibly delighted when it was released, but, quite honestly, I can't imagine that anyone was really camping out for the Hand-Job. I can't even imagine that the general sex-toy-buying public had thought to say, 'You know what would be great? A fist I can strap to my junk when A: fist-shaped dildos exist, and B: actual human fists exist.'

With 9.5 Inches of Insertable Length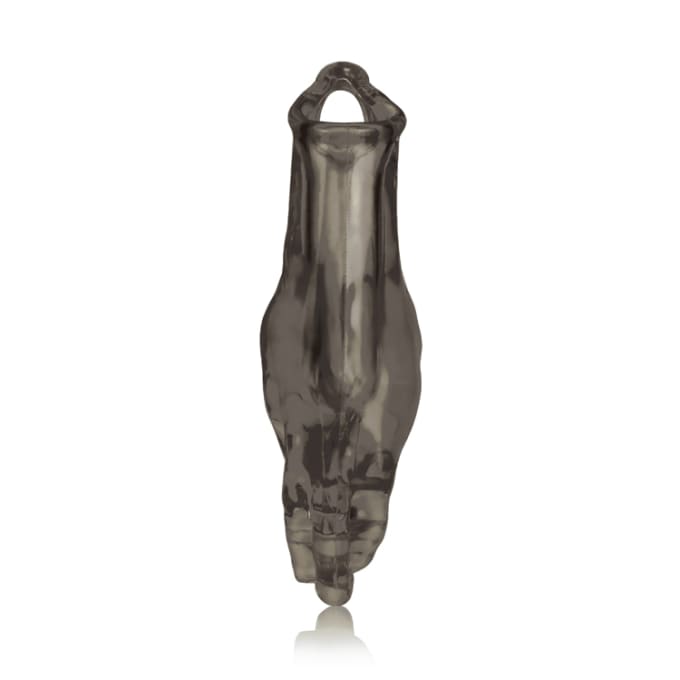 Maybe really dedicated Goro cosplayers who were impatiently looking for a device to give them the option of some sweet 2+-handed action? People who like to fist while playing Mario Kart? A just-breaking-into-kink Edward Scissorhands? I don't know, readers, I don't know. Still, anticipated or not, it's here, and no doubt somebody out there has both bought this sucker and loves it. (If you are that person, I'm giving you a completely non-sarcastic round of applause because good Lord, my friend, you are an innovative human being and the rest of us could stand to learn something from you).

And In Use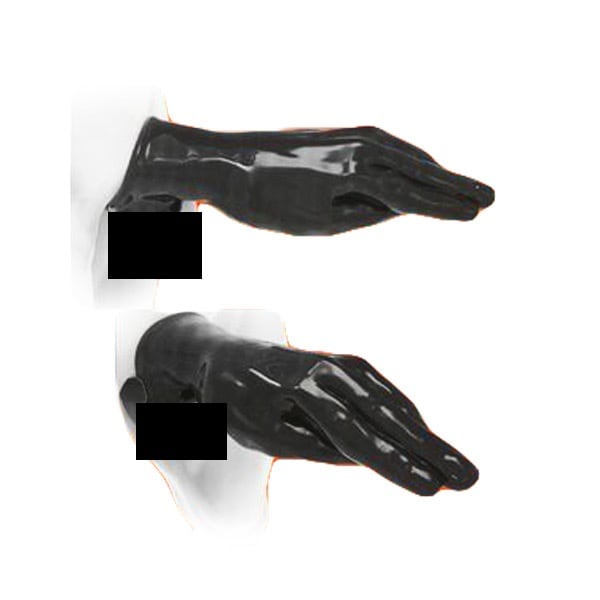 Unfortunately for all of the rest of us eager to know how exactly this thing performs in its natural(?) environment, the site it sells on doesn't have reviews enabled. It does, however, have a singularly lurid bit of description. I'm not gonna quote the whole shebang here, because I'm pretty sure it would up the NSFW rating of this article by about 400%, but I can tell you that it includes the line, 'pumpin' your puffy juicy pucker'. So, you know, that's a thing. Read at your own risk is what I'm saying, and also open the link at your own risk, because it opens with a centrally-positioned shot of a nude dude really gettin' in there and given' it to another nude dude with the Hand-Job ---- and that, let me tell you, is not necessarily something you want sprung on any nosy co-workers reading this over your shoulder.

Looking Up The Barrel . . .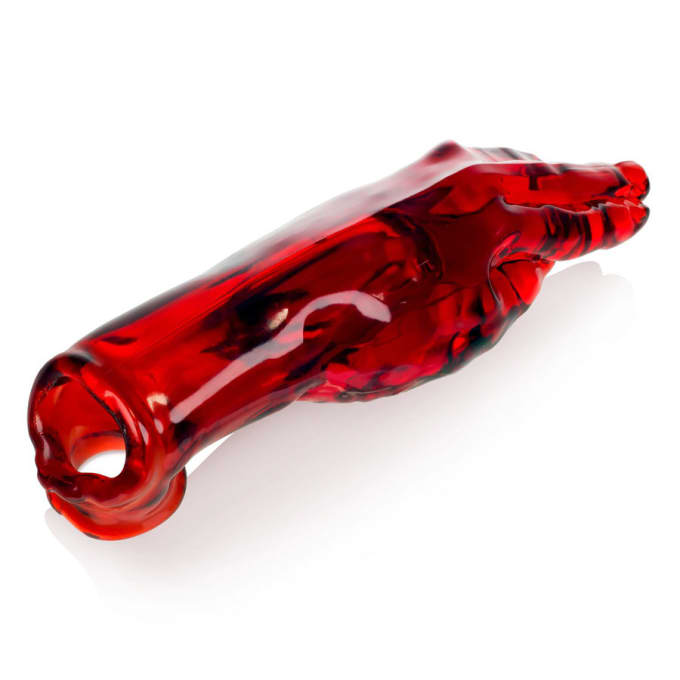 If you're genuinely interested in purchasing the Hand-Job, it comes in two colors (a somber and businesslike grey and a truly alarming shade of red), it's made of TPR, and you can buy it over on it's home site of OXBALLS . . . though the only even vaguely SFW preview finds it over on Dallas Novelty. Brings a whole new meaning to the term 'gladhanding', doesn't it? Whatever you decide on the subject of the Hand-Job, remember to stay tuned for the next Wacky Sex Toy Of The Week column ----- where we report on some of the strangest and most uncomfortable-looking sex toys the world has to offer. Stay weird, internet!

The Hand-Job Cocksheath on Dallas Novelty
From the product page: "This is a full size hand has 9.5 inches insertable to the wrist, engineered in CAD design programs to position fingers and thumb in the best conical fist shape for insertion. Coat the inside with lube, slip your meat in, wrap the 1.25 inch wide ball sling around your junk and you're ready to high-five him from the inside."