The Boss
Just the Beginning: Part 1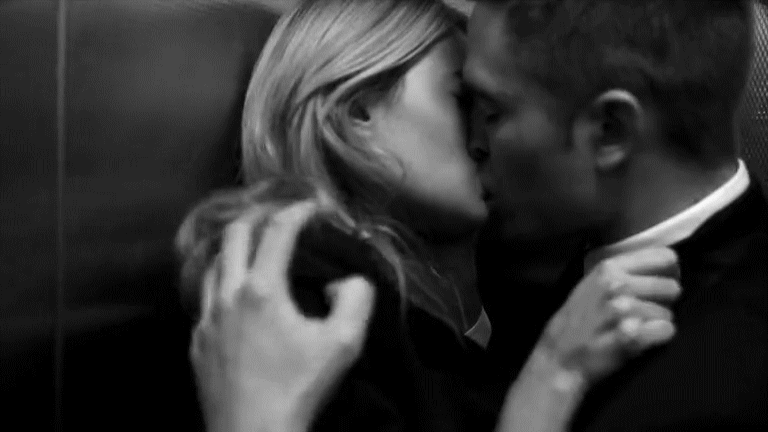 I liked being at the conference. I had so much anger and stress at work this gave me a different perspective. The big rooms with all the bright lights and important people. I sat there at a table full of my coworkers as our name was announced from the stage time and time again. We were being honored and it felt good to be recognized. I sat there smiling and clapping so honored to be part of such a successful company.
We all meet at the hotel bar afterwards. We sat around and chit chatted about everything.
Tim, the Marketing Manager, started asking me stuff about my life. I told him how I had studied marketing and advertisement in school.
"I guess you should be working for me then, huh," he said.
I giggled and replied by telling him that Ryan would not be OK with that. I turned to Ryan, my boss and the Production Manager, and said, "Hey Ryan, Tim is trying to steal me from production."
"Oh no you don't," he snaps back with a smile. "I can't lose this girl."
"You'd miss my singing too much, huh, that's what it is?" I smirked.
"Yes, Tim, it's the worst singing I've ever heard," he laughs. And he was right. I was a horrible singer, but I couldn't help it. There I'd be sitting at my desk singing Justin Bieber and without fail, Ryan would yell from his office, "Oh don't you start, Zoey." I knew he secretly liked it.
"Let's take a shot." Ryan says to me, the Assistant Production Manager, Jose, and one of the foreman Juan.
I follow them to the bar where they proceed to give me a tequila shot. Then two whiskey shots.
Next thing I know I am talking to a stranger about god knows what when Ryan comes back over and starts raving about me to this stranger.
He did that a lot, he'd compliment me and my work whenever he got the chance. He'd tell me how much he needed me. Just weeks before I had been sitting in his office telling him how much I needed another employee. I had all the research and documents you could possible need and I told him that if I couldn't get this employee, I wouldn't last there. I was too stressed.
After two long hours, he returned from his meeting with the owner and pulled me into his office and said he made it happen, though it wasn't easy. He had told me that at one point if he didn't agree to this move that the company wouldn't just be losing me, their Employee of the Year, but that they would also be losing him, the Manager of the Year. He always had my back. At that point I knew our business relationship was unbreakable.
We stood at the bar for a while discussing one of our employees, Jessica. Just a week before we had found out that her boyfriend, another employee, had beat her while drunk. This was now day two that she had not shown up to work when I had expected her there. I told him that I didn't think she would return. He wasn't so sure.
Time slipped by and the hotel bar was closing and so we headed towards the elevator. The walk there was wobbly and I laughed as we joked. His hand lingered on mine grabbing it as we approached the opening doors.
What is this I thought? Who's hand could this possibly be? My head was spinning from the shots we had shared and as hard as I tried I couldn't quite comprehend what was happening.
No one was around and I saw his head dip down and his lips met mine. I pulled away and it was all a blur as we stumbled onto the elevator. I pressed Floor 3 and we stood in silence with the rest of the passengers.
He followed me on my floor and I started to walk towards my room but he stopped suddenly and pulled me into the ice machine room. The most classy destination for any hotel hook up.
He pushed me up against the wall and closed the door behind him. His tongue finding its way into my mouth as his hands wandered around my waist and then danced all over my body. He lifted my shirt and then cupped my breast. When his wet lips pressed down around my nipples, my head fell back in awe.
He turned me around and I rested the side of my face up against the wall as he dug his fingers into my hair and pulled my head back. His lips teasing my neck as he marked it with kisses. His hands started up under my shirt as he discovered every inch of my big tits but each of them found a new home. His right hand grabbed my jaw and he held it as he kissed me and slid his left hand down into my pants, past my black lace thong until he found my clit.
He made me so wet. I began to push up against his hips as he played with me. Sliding his fingers in and out of me and then circling my clit with his finger. He places his forehead against the side of my face as he puts his pointer finger in my mouth and I suck it.
I turned around to face him. I needed to see this beautiful man. When I faced him, it was like I was seeing him for the very first time. He was tall, but not overly tall. His muscles pulsed throughout his tattoo wrapped arms as I ran my hands down them. I stop and stare into his deep dark eyes and that's when he mutters "I've been wanting to do this for so long."
And I think to myself, NO FUCKING WAY.
But I liked kissing him. I liked it a lot. I liked it so much I let myself slide down to my knees. I pulled his jeans down a bit and took him in my mouth. I ran my tongue along the shaft of his big dick and then let him plunge himself back into my open mouth. I wanted it all. I slide it into the back of my throat, slightly gaging on him before coming back up for air.
I wanted him so bad. I think the guy who came in and filled up his ice knew that, but I couldn't have him. I started to wonder if I was ever going to get him because there was one thing I was forgetting...he's my boss. And on top of that, he's married to the daughter of the owner of the company we work for.
I awoke in my own bed, eyes trying so hard to open. My head was pounding and memories of the night before came flooding back. It all hit me at once. All the kissing. All the touching. I made myself get up and made my way across the street to the event center for breakfast.
Ryan sat across from me with his wife and he went about his morning like nothing had happened. Chit chatting with our fellow co-workers. I avoided his eyes the whole time. I was embarrassed. I didn't know what I had done. I didn't know what he thought about what happened. Was he not affected by any of it? I had so many questions for him but I feared to even cross his path.
After breakfast, we went to a class about a new app they were coming out with. I got there first and then waved Ryan, Jose and Juan to where I was sitting. I slide over a few seats, so they could easily sit down but then Ryan asked Juan to trade seats with him so that he could talk to me. I sat down next to him as he pulled out his phone and showed me some texts about my employee Jessica. After that class, I avoided him for the rest of the day.
When the classes were over, I went back to my hotel room, climbed in bed and tried to escape the very fucked up life I had created for myself. How was I ever going to forget about what I had done? I nestled my head on one of the four pillows as I clutched another in my arms and I squeezed my eyes shut and did my best to make it disappear. Maybe it was all a dream. Maybe I was still sleeping and, when I woke, it will have all been make believe. I prayed that was the case. I begged God to make it not be true but when my eyes fluttered open an hour later my stomach dropped all over again.
I sat there thinking about the many conversations and encounters we had. I thought about how I would sit down in one of the chairs across from him and throw my legs up on the other. I thought about how comfortable I had become when I went into that office. How confident I was now when I spoke to him as compared to two years ago. I thought about all the jokes and laughs we had shared and yet I had never once thought he was interested in me.
I would have laid in that bed the rest of the day. I would have stayed locked away in that room until the trip was over, and it was time to go home, but I was here on business, there was no time for my wallowing. So, I got up from the bed and changed into the only other shirt I had brought, a blue and light grey T-shirt. I took my hair down from its messy bun and brushed it out so that I could make myself look presentable. I took my straightener and used it to curl my hair a bit. I put on some eyeliner, as I always did and then finished it off with some brown lipstick and headed to the party.
There I was again, sitting uncomfortably across from him and his wife so I grabbed a beer and wandered off into the party.
Ryan spent his night throwing back Bud Lights and whiskey shots as he joined the company and his wife on the dance floor. I avoided his eyes as much as I could, but he didn't like that. He saw me sitting on a couch just outside the dance floor and wandered over to me.
"Come on," he said and headed towards the doors outside. I got up and followed him out into the brisk Nebraska night to the patio. We walked to the end and I stood there facing him, shaking. I was trying so hard to keep it together when he says, "Are you ok?"
"Yes, I'm fine," I replied, "I just don't know what to think."
"I don't regret it. You're beautiful and I know what I want."
He starts to walk away and there I am again, following. We walk into the parking garage while he takes my hand and leads me to the far side of the elevator. He let his back fall against the cold brick wall and then pulls me closer.
I closed my eyes and his lips pressed against mine again. He says, "I want to take you out. Can I take you to that little Mexican place by work?"
"Yes, of course you can," I mumble back, "but I want you now."