Filthy is powered by Vocal.
Vocal is a platform that provides storytelling tools and engaged communities for writers, musicians, filmmakers, podcasters, and other creators to get discovered and fund their creativity.
How does Vocal work?
Creators share their stories on Vocal's communities. In return, creators earn money when they are tipped and when their stories are read.
How do I join Vocal?
Vocal welcomes creators of all shapes and sizes. Join for free and start creating.
To learn more about Vocal, visit our resources.
Show less
Sweaty Threesome for Youtuber
Veronica Vain in Her Last Porn Flick
I've got to admit that I do enjoy watching a porn film where a girl gets double teamed. It creates this sexy idea in a man's head that women are just cock hungry sluts ready to do anything to get laid. In our  fantasies we all like the idea of a slut and while the reality is more distressing on film, it is golden. Let's be honest if our wive's or girlfriend's were real sluts it wouldn't make for a nice reality. You'd have to be a bit kinky in the head to actually enjoy that sort of thing in real life; probably the 'swinger' type. Luckily for us 'average Joes' we have porn which creates the image for us that we can switch off at anytime. I've been enjoying these casting couch scenes much more as of late as they feel very much like reality TV. The thought of a company going to an agency, hiring a model and then said girl turning up to bang two guys is again pretty arousing. The things they're willing to do on camera can make any martial bedroom antics seem tame in comparison. Recently, I discovered a Youtuber named Paige Jennings who is quite entertaining in her video blogs. She talks about videos games, being an intern on Wall Street and how she shockingly became a porn star. I have to admit once I had watched her in such a video, the next thing I wanted to do was watch her in a porn scene. Currently, this is my favourite type of scene and happened to be Paige's last shoot before turning to Youtube.
Getting it out of your system...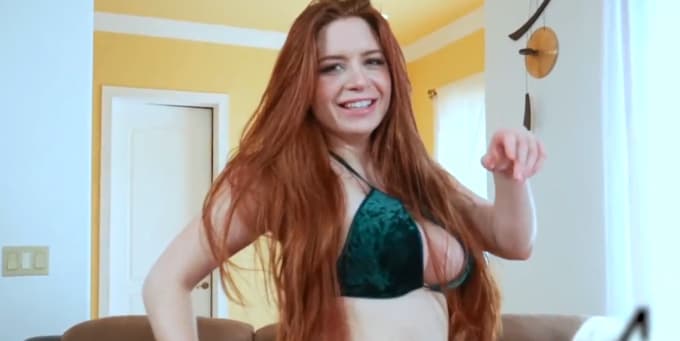 The next thing I had to do was find out her porn alias which was kindly provided in the comments below the Youtube video. The busty 34F former intern goes by the porn alias of 'Victoria Vain.' 
At time of filming 'Victoria' was actually trying to start her own porn company which unfortunately she had to liquidate. Personally, I believe she has the 'savvy' to pull off such a feat being a graduate in finance and hope she eventually does. The number of porn stars who do well out of the business is surprising and I can't quite understand why there isn't room for this gorgeous red head.  This scene is pretty raw and the improvisation is apparent when Veronica sits there, stroking herself looking embarrassed and then asks to be questioned. There obviously wasn't much planning, but it doesn't detract from the enjoyment of the scene. It's actually available on the two male performer's websites for download. The sites are Mr StrokesXXX and Alex Legend who both do a good job in this scene. I did manage to pick up the scene for free though at Whore Stepmom's website. 
Time to get nasty!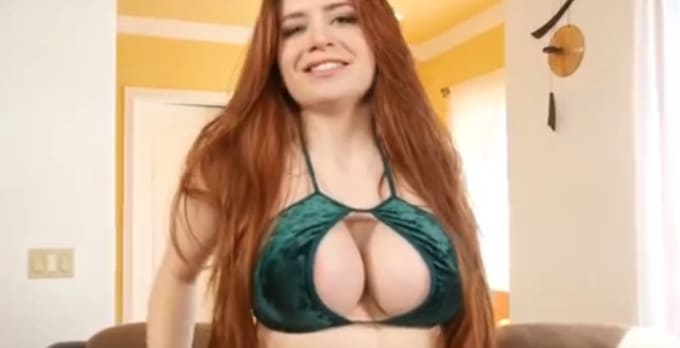 I hope I'm not being disrespectful when I say that Victoria gets pretty 'nasty' in this scene. She appears to be well motivated though as her co-performers are a pair of muscular dudes who are pretty hung. When her and the camera man are done talking she starts to strip before being introduced to two erect dicks. She doesn't waste time either slobbering all over the pair and aggressively spitting on them to lube them up. The Georgia native gets pretty worked up and even looks disheartened when one cock gets taken away from her. It's messy stuff and if you're not into that sort of thing you might not like it. Victoria has spit all over her cheek by the time the blowjob part is over before being stood up and bent over. The guys are clearly attracted to the former banking intern; one of them not dissuaded to give her smooch after she's been sucking their dicks. The other one decides to ram his cock in her pussy much to her delight. The sex is raw, dirty and Victoria can't help squirting all over the place. Anyone with a boot fetish may enjoy this too as she's drilled while still wearing them. Apparently one of the guys helped her pick out her green velvet beach wear before the shoot and she's labels him a 'metro sexual' because of it. Before it comes off though she does look incredible and most red blooded males are going to be attracted to her. Victoria receives a double penetration on the couch before being bent over a chair and rimmed. It's filthy stuff that a prostitute might even squirm at but I guess Victoria was going all out for her last shoot. I won't spoil the rest for you as I do recommend you watching it. I want to give it five out of five, but I don't think the nasty stuff will be to everyone's taste. So in that case I'm going to have to give it four out of five; a good reality scene with good performers.
4 out of 5