Promise To Be Tender: Part Seven
My Time with a Friend and Her Lover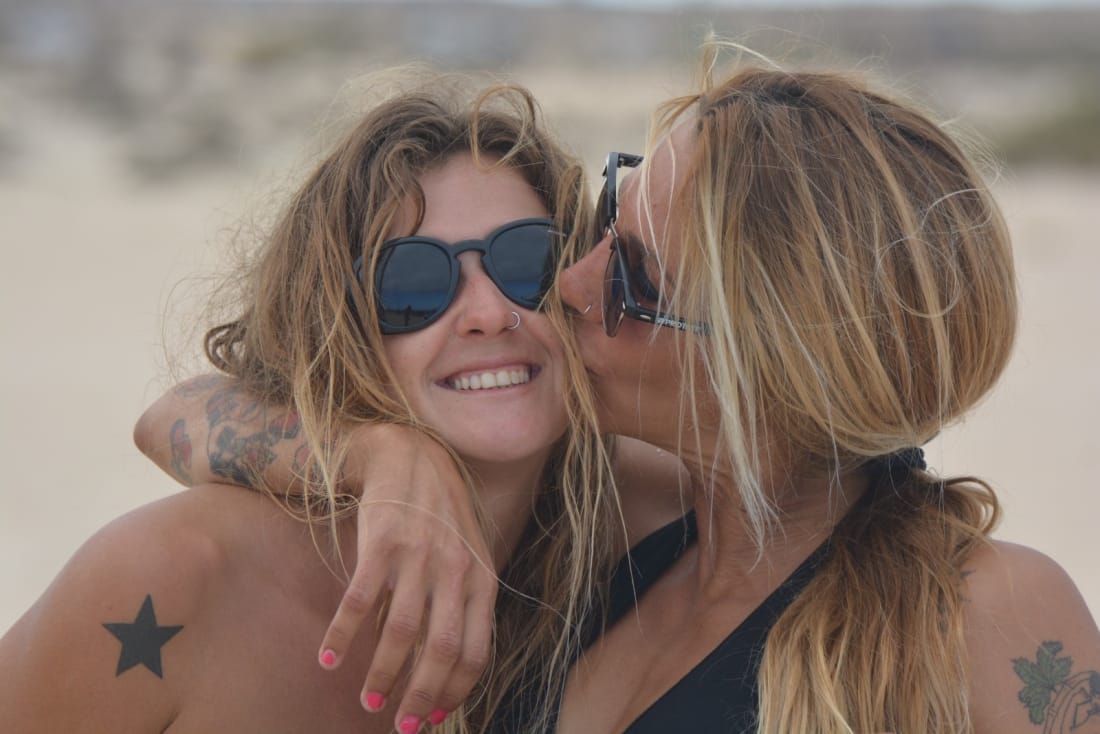 The three of us changed, and it happened that night Jenny and I loved on Kris. Personally, I think about how concerned Kris was about the tenderness between Jenny and me, and how that wasn't really happening as it should until the two of us showed tenderness for Kris, shattering every doubt she could've had with our love for her. Before that happened, I probably would have said, "Sounds like a bunch of bullshit."
If three people could be in love with one another, then it was us, or at least exceptionally fun, sexy, and loving.

The morning after, we all showered, getting wet and soaping up in turns, using the entire bathroom, and spraying each other with the shower hose, mostly spraying it in the shower, yet leaving generous puddles to mop up with our towels after we were dry. I guess you could say it was "good, clean fun."
Kris started cutting up watermelon, washing berries, and putting corn muffins in a basket. I started a pot of coffee, and Jenny stripped the bed, washing the bedding and putting a different set on the bed. Jenny walked into the kitchen as Kris placed a raspberry on my tongue and kissed me, tasting the perfumey cherry tartness of the pulp when the kiss deepened.

"I need to try that," she said, and I fully expected her to come share a berry kiss with Kris, but she placed two blueberries on her tongue, and then reached up around the back of my neck and pulled my mouth towards her own. The berries burst in our heated kiss, and I turned my body until her back was against the counter, intoxicated by my own emotions.

I'd never been so fucking keyed into a woman, much less TWO women.

I was relieved the invisible, fire-breathing dragon that had kept us apart was apparently slain by the connection the three of us had shared the previous day. The kiss broke off, and I looked into her smiling face, hugging her, and reaching to pull Kris into our embrace.
"I love you, girls. No shit, I really, really fucking love you."
We gorged ourselves with the berries and watermelon. I was the only taker on the coffee; both of the girls drank wine. I teased them about being a couple of lushes. We listened to music while we ate, but it was too beautiful outdoors to stay in. We couldn't keep our hands and mouths off of each other, though. It didn't feel like we should take our "show on the road."

I went to go pee, and when I came out, the girls were headed into the backyard with the wooden dining chairs. I followed them out, but they turned right around to go get the other two chairs.
"What's up?" I asked, bewildered.
Jenny hopped up and down. "We're making a fort!"
"You're making a what?!"
Kris laughed. "Oh, Mac, didn't you ever make a fort when you were a kid? You know, put a blanket over some chairs and then pretend like you have your own fortress?"
I shook my head. "Nope, raised on a farm, Kris. There was too much work to do for that. We had an entire farm to play on."
Kris and Jenny only looked at each other and smiled as they pulled a fitted bunny rabbit bed sheet over the chair tops. Each chair faced outward and threatened to tip over with the sheet pulled over them. Kris told me to make myself useful and help them put one of her larger potted plants on each chair seat so the chairs were anchored. Okay, I thought, I'll play along.

"Wait! We need to put the blanket on the ground!" said Jenny.
We took the sheet off long enough to cover the ground underneath with a quilt, and then reassembled the "fort." Kris and Jenny ran to go back in, and as they entered the door, Jenny called out and told me to help bring pillows and put on more comfortable clothes. Kris was slipping either a gown or summer dress on as I got in, and Jenny asked if she could wear a pair of my boxers and a tank top. I handed her a sleeveless men's undershirt as she slid on my boxers over her bare butt. I decided to wear the same: boxers and an undershirt.
"Right on, look at Mac!" said Jenny, handing us a pillow each before heading for the backyard again.
Kris did look at me, and if a look could make it happen, I'd be pregnant, I swear. She touched my hip with her free hand, bringing my dick to full attention with a passionate kiss, then grazing the length of my dick with her hand as she turned to head out.
I followed. Oh, yeah, I followed.