Pinup Girl Christmas Tree Ornaments
Add some sex appeal to your Christmas tree this year, with classic pinup girl ornaments.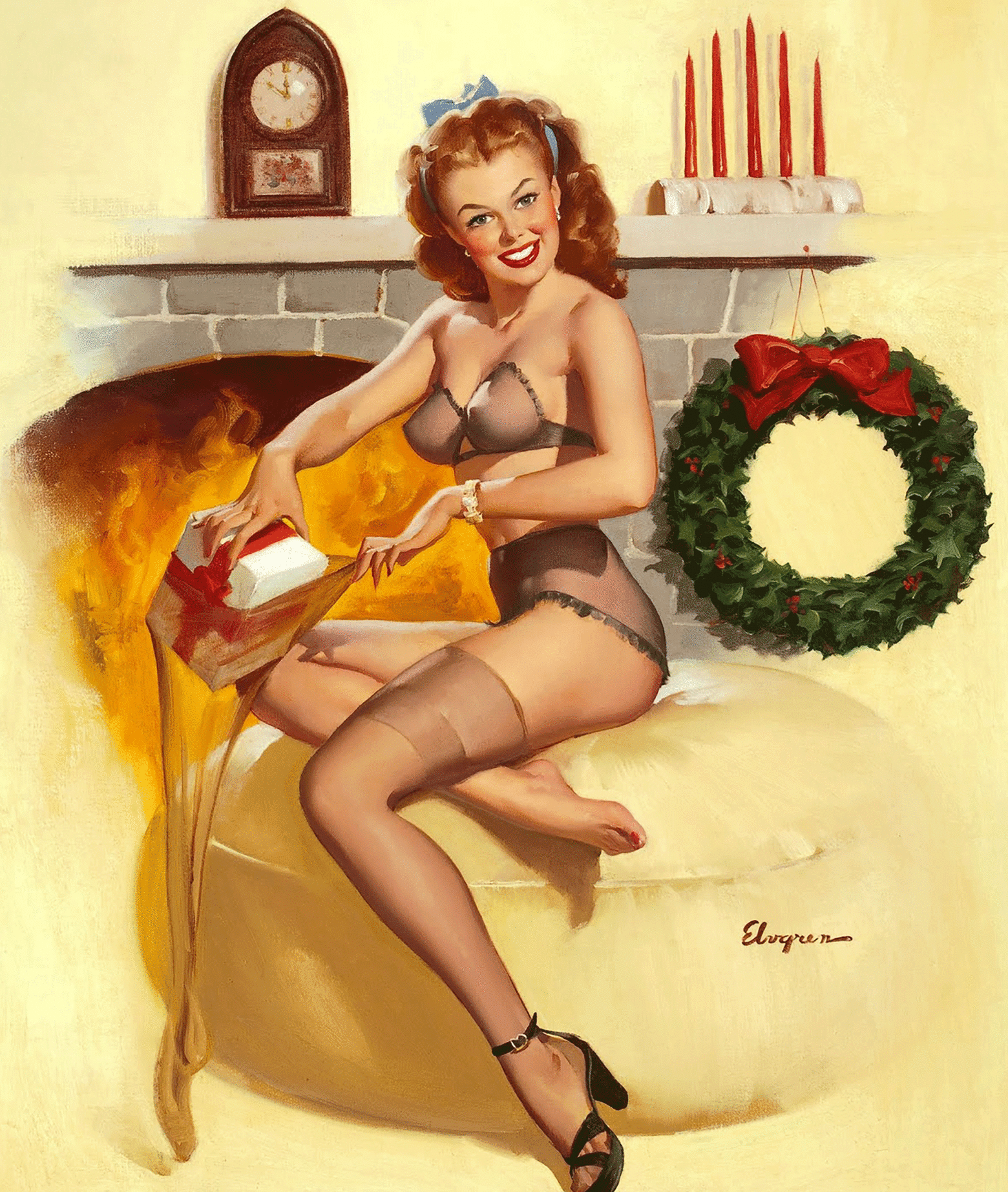 Why is Santa's sack so big? Because he only comes once a year! That was gross, but it always gets a reaction. In a world where deviance is all around us, Christmas has remained one holiday that has remained mostly pure with the exception of Bad Santa. Add some edge with pinup girl ornaments dangling from the branches of your tree.
The Corset Cutie
The Corset Cutie ornament shows off her supplebreasts and curvaceous figure. With a sexy corset laced tightly up the front, this impish little beauty is more voluptuous than one would imagine. When you hang her on the tree, she will appear comfortable, yet completely in control of the situation, as she gazes at you from between the tree needles. Complete with a strand of gold thread to make it easy to display this fantastic keepsake, the Corset Cutie is just as easy to tie up.
The Temptress
It looks like Santa put The Temptress on the naughty list this year. She might not be Betty Paige, but she knew how to drive all the men crazy. Her secret? She knew how to wear the right lingerie. An astonishing number of men find black garter belts, high heels, and stockings highly erotic and The Temptress capitalized on that lust. Feel free to put her on your Christmas tree but be careful because Santa Claus is always watching!
The Mistress
While having a mistress might put you on the naughty list, at least you can get more than coal for Christmas. The Mistress ornament showcases a certain sex appeal that would make most men think twice about. With perky tits and a seductive gaze, this woman certainly knows how to work the ornament as well as your Christmas tree. While she might be the only Mistress you can bring home to your wife, she can still be your dirty little secret.
The Dominatrix
Forget about Santa Claus. You should be more worried about making The Dominatrix's naughty list. With fiery red hair and a temper to match, The Dominatrix is looking to take out her passion on someone this Christmas. Although it was her dog that chewed up her favorite red pump, she will still call you her bad boy and make you beg to get back into her good graces. So, will you be naughty or nice this year? Only The Dominatrix will decide.
The Woman Next Door
The Woman Next Door might be looking to have more than just her stocking stuffed this year. Looking to cool down even the hottest touch, the Woman Next Door is cooling herself off with nothing more than a block of ice and a fan. Talk about perky nipples! While you might not think the women in the apartment next to you is attractive, this Christmas ornament will allow you to have a completely different fantasy this winter. While the the weather outside is frightful, with the woman next door, the temperature will be oh-so-delightful!
The Sweetheart
The Sweetheart might be as playful as Rudolph but in the bedroom, she's a real Vixen. Hang this ornament on your tree and watch as this bombshell bomb lovingly play with her pussy. What could be better than cute cats and half naked women? It combines sex appeal with a little bit of innocence, making this ornament the only one to land you on the nice list. Just remember, when you are leaving cookies and milk for Santa, leave some extra milk for that cute pussy in the tree!
The Rocker Chick
Judging by The Rocker Chick's position, she's not listening to "Silent Night." With her legs up in the air and a smile on her face, this pinup knows how to get in the Christmas spirit! While many people complain about the time it takes to decorate a tree, this ornament will certainly make untangling all those Christmas lights a little better. So for those who struggle when it comes to spreading deviant cheer during the holiday season, The Rocker Chick will help you keep from saying "bah humbug!"
The Playful Teacher
T'was the night before Christmas and all through the house, only The Playful Teacher was singing softly like a mouse. With her dog by her side, she sings merrily about winter sleigh rides. Although this teacher doesn't discipline her students, she does enjoy when she is disciplined. In fact, she likes to role play as the naughty student from time to time, and get spanked when she forgets her multiplication table. While spanking has come a long way from being a form of punishment to a form of sexual pleasure, this naughty teacher still loves to get her ass spanked until it is redder than Rudolph's nose.
The Forbidden Fruit
She might have had her cherry popped many Christmases ago, but she still has the box it came in. Let's just say, she is ready to regift it to you this year. Just like men eat fruit to make their sperm taste better, women have been known to eat fruit as well to taste a little sweeter as well. So instead of figgy pudding this holiday season, this pinup is eating some forbidden fruit, just in case she has someone that is interested in more than just her milk and cookies. With a tantalizing smile and sticky fingers, she will seductively eat fruit as she hangs from your Christmas tree, hoping that you might enjoy her company.
Lingerie
What is a pinup without sexy lingerie? All of the women on this list know that lingerie is a weapon of seduction, and that anticipation is almost as important as the moment a woman allows a man to breach the shield of lingerie. Sexy lingerie can do as much for a man as it does for a woman. It can define what is to come next for the man. More importantly it can define who a woman is without ever being seen by a man. So while love is blind, lingerie is meant to invoke all the senses, not just the sight. Plus when lingerie is involved, lust is invoked. Lust isn't blind, it has eagle vision.