Naughty Girls - BDSM
'I'm not afraid of you. Bring it on…'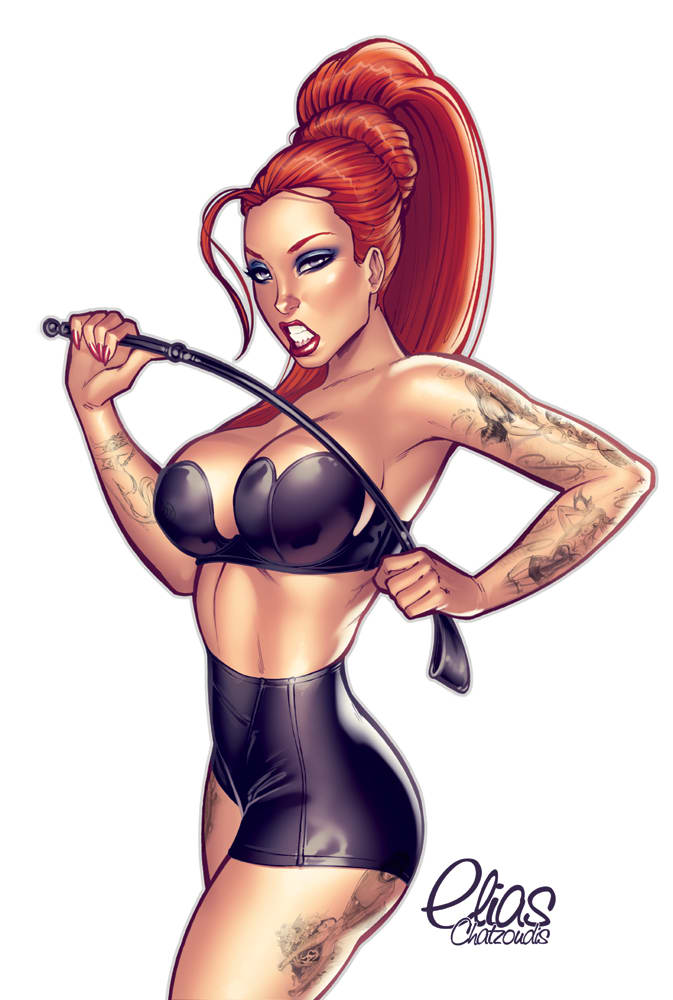 "I'm not afraid of you. Bring it on…"

Any little submissive out there who has uttered these words knows what kind of reaction they provoke in a Dominant's brain. We can almost see your blood pressure rise at the sound. Your eyes narrow, the muscle in your jaw tics angrily, and your hands clench before you can help yourself. It's a sure sign that we've said something to get under your skin. Even the wiser, more experienced Dominants who know not to let us play this game cannot mask that first, inevitable reaction. That is exactly what submissive Naughty Girls crave. We know eventually you'll wise up to school your reaction to our antics and we'll be left feeling frustrated. Or, maybe you'll just wait us out. You'll catch us when we're least expecting it and really make us pay, so we never dare to do it again. We will behave for at least a week or two. Perhaps we have short-term memories, but no matter how harsh the punishment, or maybe because of it, we always get the urge to push your buttons again. You must understand for us that it's all about that first moment. We love to see the reaction you cannot hide. Why do we do this and pay such a high price? We are Naughty Girls and we just love getting a rise out of you.
Don't get me wrong. Most of the time I'm a model of good behavior with my Dom. I want to do his bidding. I take pride in it. I am sweet, subservient, helpful, and adoring. That is, until that day comes when I wake up and get that craving in my blood again to be willful and difficult. I can't help it. I was born to push boundaries and test limits. Much like a Dom I guess, but I do it with the overwhelming need to be put back in my place.
It's not a lack of respect, which is what most Dominants don't understand. It's a need to see your power. It's a need to see the reason we submitted to you in the first place. Naughty Girls are not satisfied with blind devotion. We're smart, edgy, and we crave to be reminded why we chose you to dominate us. Because it is a choice and don't you ever forget that. I never said we were easy to deal with. If you're a Dominant to a Naughty Girl you already know that. We want to see again that crease in your brow and cause that thunderous expression. Take control and show this bratty little girl who's really the boss.
This does not have to be physical punishment either. I have to admit, being taken all the way to the brink of my physical limits and beyond so I am shaking, crying and feel like my whole being is shattered… well… that's just downright effective. But I'm going to give away a state secret by telling you that sometimes it's just as effective to show us mentally that this kind of behavior is not acceptable. I'm going to make every Naughty Girl I know hate me for admitting that, but it's the truth. I'm sure some of you have already figured this out. Sometimes withdrawing emotionally and mentally makes girls like me go crazy with remorse and we will instantly be at your feet begging your forgiveness.
C'mon. Be nice. Don't use that tactic all the time. Give us what we want sometimes, which is the reaffirmation of your power over us. Frighten us. Subjugate us. Teach us not to do that again. That is, until the next time we are feeling bratty. Something tells me if you are the owner of a Naughty Girl, you enjoy it just as much as we do. Throw us a bone, but don't ever let us forget that you are the ones in charge. We like it that way. We just like to remind you that we're out here, wrinkling our noses at you and tempting fate.
I personally think it takes a special kind of man to handle a Naughty Girl properly. Not everyone can do it. We are downright infuriating. I sniff when I hear the words "well-trained." I'm not a puppy! Well-trained has its place — I am not mocking protocol and etiquette. I respect your rules. I am a submissive, after all, and I strive to please my Dominant in any way I can. What I'm saying is that for me, being perfectly behaved all the time would put me to sleep. While I do enjoy pattering after my Master most of the time, trailing in his wake with my eyes cast adoringly on the back of his head, sometimes I do get the urge to stick out my foot and trip him. Pay for it afterwards and enjoy the adrenaline rush. I'm a thrill seeker. You have to remember who we are. We are giving you the power of Gods over our minds and bodies. We are thinkers. We don't accept anything on faith. You have to remind us why you are our chosen divinities. We Naughty Girls are the Ferraris of the submissive world. Handle us with skill and we'll purr like a kitten for you, but better keep both hands on the wheel. We tend to skid out of control quite easily.