Filthy is powered by Vocal creators. You support
Johnny Garcia
by reading, sharing and tipping stories...
more
Filthy is powered by Vocal.
Vocal is a platform that provides storytelling tools and engaged communities for writers, musicians, filmmakers, podcasters, and other creators to get discovered and fund their creativity.
How does Vocal work?
Creators share their stories on Vocal's communities. In return, creators earn money when they are tipped and when their stories are read.
How do I join Vocal?
Vocal welcomes creators of all shapes and sizes. Join for free and start creating.
To learn more about Vocal, visit our resources.
Show less
My Wife, the Slut
What goes around, comes around.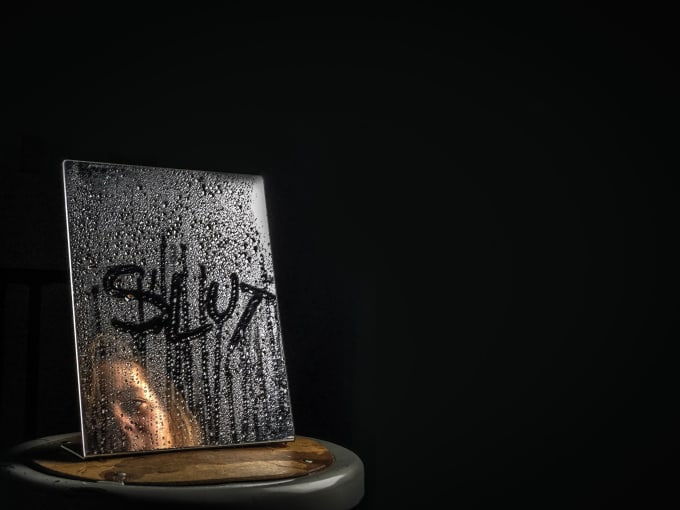 I invited my coed softball team over to our place for a barbeque after the end of the season. My wife, Arlene, and I are used to throwing parties. Entertaining is fun for us. But, because of everyone's schedule, there were only five us including Arlene and I. Quality not quantity is my philosophy.
Arlene and I were introduced to each other two years ago in a coffee house on the North side of Chicago. We hit it off right away, started dating and got married about a year later.
Arlene and I were introduced to each other at that Chicago coffee shop but we actually met previously in college. But she doesn't remember that encounter. We both attended big state universities in Illinois. I was visiting guys I knew from high school that were attending a Northern school. I attended a Western school. To be honest, I was visiting since I was promised a wild homecoming weekend. I was not disappointed. There was certainly a lot of beer going around, a lot of pot being smoked and good tunes being played throughout. People in the dorm wandered from suite to suite, room to room.
"Jack, go ahead and check it out," my one friend nudged me. He looked to the others like they were privy to an inside joke. "Catch up with us later." They meandered away and I went into the dorm suite and I could see a commotion near a room. I walked in to look inside. A red haired girl was laying on her back naked as a guy with his pants around his ankles fucked her furiously. Another guy had stripped down and got on the bed near the girl's head. She turned her head and stretched towards the swaying cock. He moved closer rubbing a hand on her tits. Her mouth reached his cock and she started sucking on the head as she continued to be fucked. That was the first time I saw Arlene. She had a cock number one in her pussy and cock number two in her mouth.
A third guy, cock number three, had taken off his clothes, stroking his cock watching the action on the bed, obviously waiting his turn. I was turned on watching this wanton girl squirm on the bed. I was getting hard quickly. Cock number three decided he didn't want to wait, got on the bed on the other side of Arlene's head. She stopped sucking cock number two, turned her head and sucked on cock number three. The guy fucking her was about to blow his nut. He started to pull out, presumably to shoot on her stomach but Arlene stopped sucking for a moment and grabbed the forearms of the guy fucking her.
"Nooooo," she protested. "I want you to cum inside me. I love the feel of warm cum in my pussy."
The two guys near her head cheered and high-fived each other. The guy fucking her re-doubled his efforts, hunching over as he pumped his cock in and out faster. Arlene clawed at his chest as she felt him get tense.
"Ohh…Ohh…" the guy fucking her grunted as he shot his sperm in her pussy. "Oooooh, I love that. I fucking love that," Arlene moaned as she felt his warm cum fill her pussy. Her hands were everywhere, touching her lover's chest, feeling her own tits and then reaching for cocks near her head. One of the guys near her head moved down and waited as the guy that just came in her slowly backed away. A string of cum ran between them until he wiped himself. The next guy ran his cock up and down her pussy.
"Oh yeah. Fuck me! Fuck me!" she groaned. "I want to fuck."
I got hard as a rock watching her. Arlene shrieked as another cock filled her and started to fuck her.
"You're a real slut, aren't you?" he prodded.
Instead of being insulted, Arlene let out a deep moan, closed her eyes, and murmured, "Yeah. I'm a slut. I'm a SLUT!" She said this repeatedly, sometimes loudly, sometimes an inaudible sigh. That stopped when the guy near her head straddled her head and lowered his balls to her mouth. Arlene lapped at his balls as he stroked himself. She looked so hot to me. I was so turned on I took my pants off, then my underwear. I slowly stroked my cock watching this scene of unadulterated lust. The guy between her legs didn't last that long and I was grateful for that. Arlene pushed a guy away from her face. We made eye contact.
"Fuck me," she said as she reached out to me. I entered and it felt weird and sloppy to feel someone else's sperm but I got over that. Arlene let out a series murmurs on every one of my down strokes. She held onto my shoulders as we moved our hips against each other. Watching her awash in sexual bliss was hypnotizing. She was lost in a sea of desire. She didn't seem to care about anything except the sex and I loved that!
I quickened my pace to give her what she wanted: more hot cum in her pussy. My whole body shook as my load shot into her. She shuddered underneath me as I came and that turned me on even more. I finally backed away and the guy that was getting head from her earlier replaced me between her legs and fucked her some more.
That's how I met my future wife. I know most guys wouldn't want to marry a woman they met under those circumstances. I guess I'm different. When we were introduced and started dating, I never let on that I and a few other guys fucked her one Saturday afternoon. I kept this secret from her. I thought she might tell me herself in time but she never confessed to any unusual sex. To be fair, I never confessed I participated in a gang bang. But it was always something I knew about Arlene that I kept from her. Obviously, I didn't care. In fact, it turned me on. I liked knowing I was with a woman so sexy she could satisfy more than one man at the same time. I felt pride in knowing my wife was a sexual animal and that she chose to be with me.
The barbecue for the softball team also turned out to be a going away party since I had accepted a position back in Chicago. We enjoyed our friends' company but there's no place like home. The steaks I cooked were great, if I do say so myself. Arlene was puttering in the kitchen while she talked to Don. Rob and I sat with our beers in the living room. Out of the corner of my eye, I could see Don and Arlene. Don was older but tall and handsome. I know most of the women on the softball team thought he was handsome. Arlene never said she thought Don was attractive but I'm sure she liked the attention he was giving her.
Our place was sort of in a state of disarray. A lot of our stuff was packed for moving. We already disconnected the cable TV but we still had internet. Rob had an app on his phone that he used to connect to my smart TV and we were able to get a bunch of movie channels. We were scrolling through the options when we came across a porn channel. Just at that time, Arlene and Don joined us.
"What the hell are you watching?" Arlene exclaimed. And, indeed, she was correct in being shocked. I was shocked too. The movie was showing a guy screwing a hermaphrodite.
I looked at Rob. "I don't want to watch 'this'," I said. Rob scrolled to other channels but we couldn't decide what to watch.
"You guys don't watch porn together?" Rob asked.
"Not chicks with dicks, Rob," I said. Arlene and Don laughed.
"A sexy scene doesn't have to be porn," Arlene said. "You know, like Patrick Swayze and Demi Moore making pottery in 'Ghost'."
"That turned you on?" Don asked Arlene.
"Well, yeah," Arlene said as she wiggled a little to show her enthusiasm.
"What's everyone drinking?" I said to break up the subject.
"Oooh. Make up some Moscow Mules!" Arlene suggested. I went to the kitchen and started to set up some copper mugs with crushed ice, vodka, ginger beer, mint and lime. When I came out with a tray of drinks, Arlene was sitting with Don on the couch, Rob was in a chair. I sat next to Arlene on the couch. They were still talking about porn.
"Hardcore porn just shows you what you're probably doing anyway in your bedroom," Rob argued.
"But what if porn 'is' your sex life? That doesn't seem healthy" Don said.
"I agree," I said.
"But it paints a distorted picture of how beautiful sex can be," Arlene said. "That's why I prefer movies like 'Ghost' or 'Mullholland Drive'."
"Those are good movies, but if someone wanted to watch a movie with lots of sex in it, they would be disappointed" Rob countered.
"So then you'd watch a soft-core movie like those 'Emmanuelle' movies or '9 ½' weeks'" I said. I looked at Arlene and asked "Do you find those movies sexy?"
"I suppose. I suppose you better find those movies sexy or else there's no other reason to watch. It's not like the have great acting or a great story."
We all laughed. Rob kept scrolling through movie options. Horror, war, lame comedies… It seemed like an endless collection of crap. Rob found an old movie: "Wild Things". We just happened to catch it when Matt Dillon, Neve Campbell and Denise Richards were having a threesome. It wasn't porn.
I looked at Arlene. "Do you find this sexy?"
"Yeah," she said enthusiastically, her eyes never wavering from the screen. I looked at Rob and Don and smirked. I reached up and moved Arlene hair away from face. She turned to me and we kissed. I gave her one of my "I want to fuck you Arlene" kisses. She recognized the move mid-stream and was going to stop. I cradled her head keeping her mouth on mine. When we finally stopped, Arlene said "Whew!" and looked at Rob and Don a little taken aback. While We were kissing, Rob had changed the channel and a hardcore porn scene was on our big screen TV. I felt Arlene's leg. She looked at me. I whispered in her ear, "It's okay." We started making out. My hand went between her legs and I rubbed her pussy through her blue jean shorts. I heard and felt her let out a loud moan. I looked down and I could see Don was feeling Arlene's tits through her t-shirt. Arlene turned to Don and they kissed. Arlene's face was flush when their kissed ended. I stood up and I took Arlene's hand and encouraged her to stand up. I pulled her t-shirt up, over her head and tossed it aside. I knelt in front of her, unzipped her shorts and tugged them down. At her feet, I moved the shorts away from her feet and took off her shoes. She stood in front of us in bra and panties. While at her feet, press my face against her crotch. I could feel her getting damp. I took hold of her ass in my hands and licked her through her panties. Don stood behind her and held her breasts in his hands as he kissed the back of her neck. Arlene steadied herself by leaning on my shoulders. She ran her fingers through my hair.
I stood up and took her by the hand to lead her to our bed. I motioned for Don and Rob to follow us. In our bedroom, I led Arlene to the foot of the bed and I motioned for Don to step forward. He walked to her slowly. They kissed as he reached around and unhooked her bra. He stepped away to pull the bra away from her body. Don then knelt in front of her and lowered her panties. Don reached out to touch her pussy as she stepped out of her panties. He licked his fingers as he stood. Completely naked now, Arlene unbuttoned Don's shirt and kissed his chest as it was exposed. He kicked off his shoes and took off his shirt as Arlene tugged at his pants and boxers. With his pants and boxers still around his knees, Arlene stroked his cock and kissed the sides. It was easy see why Don was popular with the ladies. His stomach was flat and toned. His cock was long and thick. Arlene seemed to luxuriate in Don's thickness. She held his ass in her hands and took his cock in her mouth.
I went to a corner of the room and started to take my clothes off. I looked around and saw Rob staring at Arlene and Don, rubbing his cock through his jeans. Arlene stopped sucking Don to push his clothes away from his legs and push him against the bed. Don fell backwards and Arlene crawled onto the bed between Don's legs and pushed his cock up to lick his balls. Naked I went behind Arlene and felt her ass. I looked up at Rob and motioned for him join in. I spread Arlene's cheeks apart and inserted a couple fingers into her pussy. She stopped licking Don momentarily and looked at me and gave me a big smile. She returned to Don and took as much of his cock in her mouth as she could. Arlene stroked his cock up and down with her mouth. Don closed his eyes and basked in the pleasure he was receiving. I fucked Arlene with my fingers, in and out. Rob was now naked, his cock bobbing in the air. I was shocked. For a quiet guy, I was surprised at the size of his cock. He was even bigger than Don! Rob walked up to Arlene and felt the breast closest to him. Arlene moaned. Rob massaged her tit, checking on its heft and squeezing it slightly. Arlene looked to her side to see Rob. When she saw what he was packing, I could hear her whimper. She lifted her head and reached out to Rob, bringing his throbbing, thick penis to her. She licked the head all around and then sucked on the end. Don pulled Arlene up and lay her on her back. I moved away and watch ed as Don positioned himself between Arlene's legs. He rubbed the head of dick against her wet pussy. Arlene reached out to him.
"Fuck me" she whimpered. Don need no further encouragement. He pressed into her until her pussy opened up and enveloped him completely. They both moaned as he filled her pussy with cock. I could see her pussy gripping him as he slowly moved back. He began a steady rhythm, sawing his cock in and out of Arlene. I got up on the bed and knelt close to Arlene's head. I stroked myself close to her face. She leaned towards me and sucked my cock. Rob also got on the bed and positioned himself close to Arlene. He rubbed his huge cock against her tit. Arlene reached between his legs, fondled his balls and drew him to her mouth. She stopped sucking me, turned her head and licked the underside of Rob's cock. She stretched her mouth and, although she was able to take the head, she could not get much of his length in her pliant mouth. Rob enjoyed the attention, nevertheless. Don was starting to increase the speed of his pumping and we all sensed he was close to cumming. He pulled out of Arlene's pussy and stroked himself, aiming his cock at her belly.
"No! Cum in my pussy. I want to feel your cum," she gasped.
Don re-inserted himself as Arlene groaned and now concentrated on Don's fucking. She reached up and ran her hands over his chest and arms. Don focused on pumping her pussy.
"Ooooh, fuck me. Fuck me" Arlene cried. Don could not hold out anymore and shoved his cock deep and let his sperm shoot into her. They both cried out as Don kept jerking more and more of load into her. Don looked around and decided to collapse in a nearby chair to collect himself. Arlene lay spread eagle on the bed, sex fluids oozed out her throbbing pussy.
I moved between Arlene's legs and I pushed my whole cock into her in one downward stroke. She inhaled in surprise as my cock entered her swiftly.
"You love the feel of warm cum in your pussy, don't you?" I asked.
"Oh yes I do," she sighed. "I fucking love that," she said.
"You're a real slut, aren't you?" I asked.
Arlene looked up at me like she been shot. Her eyes widened and a look of shock and recognition over came her. She tried to back away from.
"You're a slut, aren't you?" asked again and I began to fuck her hard. Arlene could not stop her lust at this point. She leaned back against the bed. I felt her hands all over me.
"Yeah, I'm a slut. I'm 'your' slut. Now fuck me and fill me with your cum." I lifted her legs and let them rest on my shoulders as I fucked her pussy harder and faster. She kept sobbing and grunting with each of my down strokes. "Fuck your slut," she kept muttering until my hot sperm shot into her allowing it to mingle with the cum already in her pussy.
After I slowly withdrew, Rob was so horny he didn't hesitate to get between Arlene's legs, Even though Arlene was well-fucked by now, she cried out as Rob tried to ease into her. His girth and length shocked Arlene. She came out of her stupor as Rob shoved his monster cock into her. She cried out in a weird mixture of pain and ecstasy. Rob asked her if she was alright and if he should stop.
"Oh no. Don't stop. Go slow. But don't stop" she whispered. It took him a long time before he could get a decent amount of his cock into Arlene. Then he slowly started to move in and out, She moaned incessantly, squirming on the bed like Rob's cock a was fishing lure and she was a fish trying to get away from the hook. But she was hooked alright. She screamed whenever went into her and it was obvious she loved it.
"Fuck me! Fuck me with your big dick! Oh! Oh!" That's when she came all over Rob's cock. The sensation of her pussy maniacally gripping his cock made him spurt. His cock stretched her out so much, there was no place for his cum to go but come oozing out immediately out of her pussy.
I got a warm, damp wash cloth and wiped between her legs. She held the cloth against her, turned to me and smiled.
The next day, we were lying in bed, spooning. I was behind her.
"So we met a few years before we met that at the coffee shop," she said.
"Yes we did," I said.
"You saw me fucking a few guys" she said flatly.
"Yes I did" I said.
"We fucked that first time you saw me?" she asked.
"Yes, we did" I said.
"And you went out with me anyway?" she asked.
"Oh yeah" I said. "I thought you were so sexy. I thought I want to be with you because you are so sexy. You are so sexy, you can satisfy a lot of men. Yet, at the end of day, you're with me. And I am with the sexiest person on Earth" I said.
"You think I'm sexy?" she asked.
"Yes. Indeed I do" I said.
"I like sex. That doesn't make me a slut" Arlene said.
"I know" I whispered to her. She reached between us and felt my hardening cock.
"I'll be your slut, okay?" she asked.
"That's all I want" I confessed.