Filthy is powered by Vocal creators. You support
Ramona Hargrove
by reading, sharing and tipping stories...
more
Filthy is powered by Vocal.
Vocal is a platform that provides storytelling tools and engaged communities for writers, musicians, filmmakers, podcasters, and other creators to get discovered and fund their creativity.
How does Vocal work?
Creators share their stories on Vocal's communities. In return, creators earn money when they are tipped and when their stories are read.
How do I join Vocal?
Vocal welcomes creators of all shapes and sizes. Join for free and start creating.
To learn more about Vocal, visit our resources.
Show less
My First Threesome
The Sexy Bits, the Bad Bits, and a Bit of Science, Too Apparently.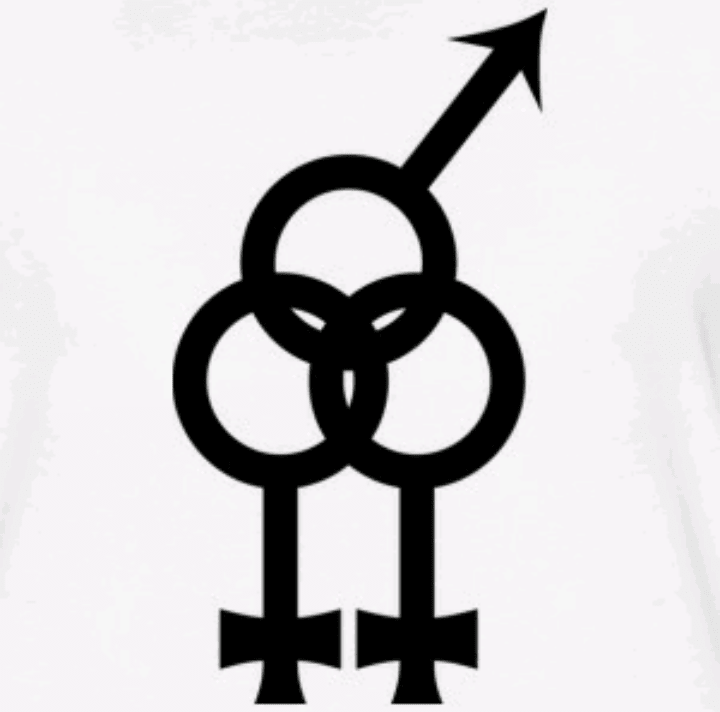 Now threesomes might not be at the top of the list of things you want to experience before you eventually decide to settle down and pop that big ole finger prison on, but it's certainly always been on mine. Since the day I first heard about the absolute faecal cyclone that was my ex girlfriend's first threesome I knew I too wanted to experience this particular turdicane for myself.

Perhaps not literally; though it must be said that the shits weren't all that absent- but I'll get to that little nugget (sorry that was the last one).
By the way, if you're now expecting a charming little story about how I shit myself in the middle of my biggest fantasy, I'm afraid I'm going to have to disappoint you.
However, it is worth mentioning I had very little sleep the previous night, and so because I'm definitely to be trusted with making last minute decisions regarding my physical state, you can bet my sex life I drank three cups of coffee before I left and, well...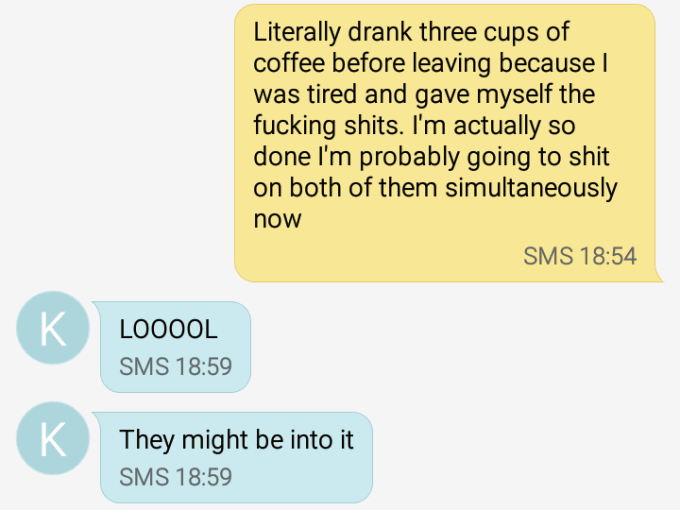 Who knows, maybe they would have been.
Anyway, let me stop wasting time and get to the juicey juice that everyone really wants to know about. Oh yes, the diddley.
So background: I met the couple on Tinder and found myself extremely attracted to the girl but being gay, I'd never imagined my threesome fantasy would include a man. But after chatting to her for about an hour I was convinced this easy going, almost nymph-like girl was the one and I was just going to have to firm the presence of this extra-terrestial meat.
I didn't want my anxiety to stop me going through with it, so we arranged for everything to happen the following night. You might have an idea as to why I had trouble sleeping now. I knew absolutely nothing about these people except a couple of vague details from some fairly conservative selfies. It was exciting, but hideously nerve-wracking being so in the dark.
The next day I went about doing the usual pre-sex prep: pretending I hadn't been rocking a downstairs wookie cosplay for the past month, sighing as I realised all my underwear looked like I'd just walked out of a year 7 PE changing room. You know, the usual.
I met them at the station at 8 o'clock. I was taken aback when they first arrived as they were far more attractive than their pictures suggested. She had shaved her head and was dotted with cute, uncoordinated tattoos whilst he was covered in far more intricate designs. It turns out they were tattoo artists and gave the impression that they were simultaneously the kind of attractive you tell yourself to stay away from but also immediately decide what colour the bouquet is going to be at your very realistic poly wedding. Perhaps not.
We arrived back at his home a few moments later. It was adorned with lit candles and had some gin and tonic already prepared on the side. I could practically taste my nervousness.
After talking for a while he finally proposed we begin, and because we'd discussed our boundaries beforehand we decided to just jump straight in. I'll spare you the crude details, but here were the main points:
It was definitely the best sex I'd ever had.

He was VERY good with his tongue

neither of them were jealous at any point, and took pleasure in ordering the other to do certain things to me. That made me so much more comfortable.

It was the first time I'd experienced a man in 2 years and I'd definitely been missing out.

The session lasted about two hours.

At one point she and I were tied together so we couldn't move away from what he was doing. That was my favourite part.

It finished when we all came at the same time. I was tempted to high five them but refrained.

Afterwards I lay at the end of the bed whilst they lay together on the opposite side. We ended up chatting for another hour about unrelated things, and this is what leads me to my favourite part of the entire evening.
He decides to bring the conversation to philosophy and, oh boy, was it the biggest ride of the night. He informed me he believed the world is flat, gravity is a conspiracy by the government because he thinks the story of the apple dropping was just too unbelievable, and the moon landing was fake; among other equally concerning assertions. Word of advice: if you do share these views, perhaps keep them to yourself. It dries a girl faster than the dinosaurs died after the meteor struck (or at least would have, because luckily for them they didn't exist apparently).
Final Thoughts
If I was to do this again, I'd definitely get to know the people better because although I was lucky enough to find the perfect couple for me, there were so many things that could have potentially gone wrong. The girl and I now talk frequently and have become good friends, which was a pleasant bonus I did not expect.

Saying this, I don't think I would do it twice. The experience was so painless that I think like the Hangover, a second movie (whilst optimistic) would probably end up being a complete car crash of an experience.

The experience allowed me to explore my sexuality in a way I'd just never considered. I was comfortable liking women exclusively that I hadn't entertained the possibility I might be bi- this I'm fairly positive of now.

The evening did have one negative. After I left, I was conscious that this was a great bonding moment for the both of them whilst for me, I was simply an experience. It wasn't hurtful, but there was a brief moment where I was slightly saddened I had no significant other to share this amazing moment with. This passed though, when I was able to write about it here.

In future, always find out their views on gravity before sleeping with anyone if you don't want to feel like filling out an underdog compensation application for an accident that wasn't your fault.

Thanks for reading!