Filthy is powered by Vocal.
Vocal is a platform that provides storytelling tools and engaged communities for writers, musicians, filmmakers, podcasters, and other creators to get discovered and fund their creativity.
How does Vocal work?
Creators share their stories on Vocal's communities. In return, creators earn money when they are tipped and when their stories are read.
How do I join Vocal?
Vocal welcomes creators of all shapes and sizes. Join for free and start creating.
To learn more about Vocal, visit our resources.
Show less
'MILF Seeker'
Some boys just need to be mothered!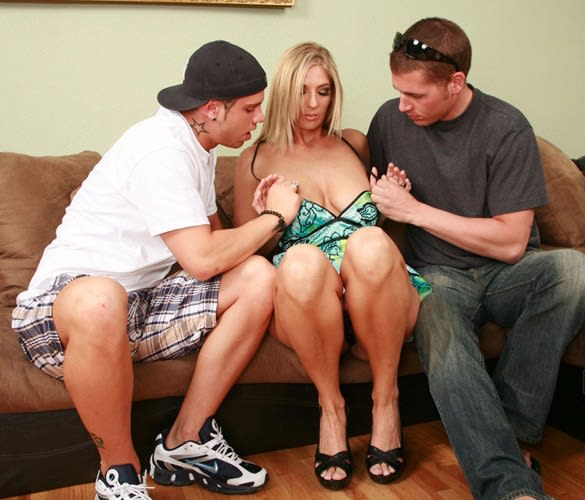 I like to think of myself as a connoisseur of the breed of woman known as the 'MILF.' 
Personally I love an older woman and so do a lot of other men as they have the experience to know how to satisfy a man sexually. The porn website MILF Hunter was one of the first to realise the popularity of the milf. It would film the exploits of two guys tracking down these older women and pleasuring them in front of the camera. Of course it was all set up for porn but it made for good entertainment and the website was pretty popular at one point. Other websites have found a similar formula which works when shooting the "MILF Seeker" which adds good variety to the concept. Competition is healthy as the only winner can be the fans which is good for us. "MILF Seeker" goes a couple of steps further. Firstly, it's usually young guys chasing the milf which makes the fantasy more appealing as it's more taboo. Secondly the milf usually gets 'double teamed' by a pair of young guys. This creates the idea of the "slutty milf" which adds to the arousal of the viewer. It's a pretty good formula and I know I enjoyed many of their episodes which are available online. It's done in a reality TV type way, where the guys are just suppose to be out scouting for girls. It's entertaining and those who like that type of thing will certainly enjoy this.
She needs it...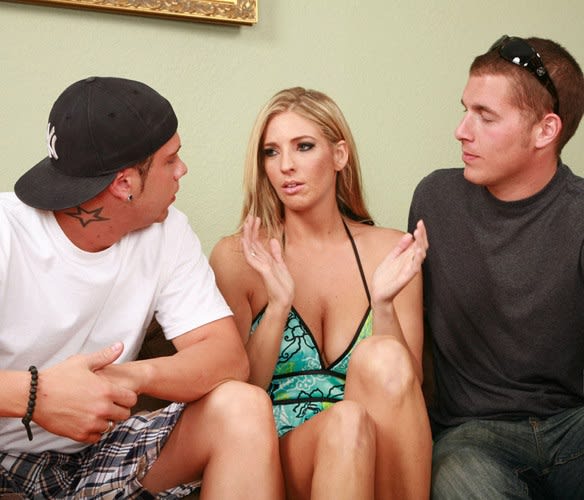 This scene stars mature Jordan Kingsley; a 36D-28-34 New Jersey native who entered porn back in 2008. The guys (who aren't credited unfortunately) are out scouting for milfs. While they are sat back in their car they are talking about what they like about moms when one of them spots Jordan coming out of the supermarket. They decide to follow her back to her house as she looks mighty fine in her teal sun dress. Jordan is very natural with her acting and seems to like being in front of the camera. While you do get  a bit of a "stalker" vibe from the two guys it's not enough to deter you from watching the scene. Yet the next part is a bit creepy as the guys are sneaking around her property and looking through her windows. They're even discussing where her husband could be which could give the wrong impression. Then they even try and get into the house by putting their hands through the letter box and trying the lock. Jordan sees a hand at the door and instead of thinking 'These guys look dangerous' she presumes they are the people she hired to move her couch. It's a bit stupid but again not enough to ruin the scene as Jordan takes the guys to the living room to show them the couch she would like moving. The boys not intent on moving the sofa instead park their asses down to the disbelief of Jordan. She's frustrated as they tell her they never brought their dolly to move it and that someone is bringing it. Jordan is suitably angry and pulls them up about their lateness and lack of preparedness. The guys thinking quickly say they came earlier but she wasn't home and are more curious to what they are going to do while they are waiting. While it is a well filmed scene it does raise moral questions as these two guys are a bit creepy. They start to touch Jordan who does quite like it but is reluctant because as a mother she feels she should act "better."
It becomes apparent Jordan is a single mom with two kids who are expected home in the next hour. The guys persist and Jordan is charmed by their youth as they whip out her tits for a suck. What ensues is a really dirty scene as this potential real life mom gets a drilling on film. What's quite attractive is Jordan's natural look makes her appear like the everyday mom you would see on the street. So watching her get pounded by two guys young enough to be her sons is pretty hot. She doesn't do any smooching but the her body looks is incredible. Her ass isn't toned but it has a nice mature jiggle to it in her black g-string. She looks delicious from most angles and watching her get worked up is pretty hot.
Working it for the Camera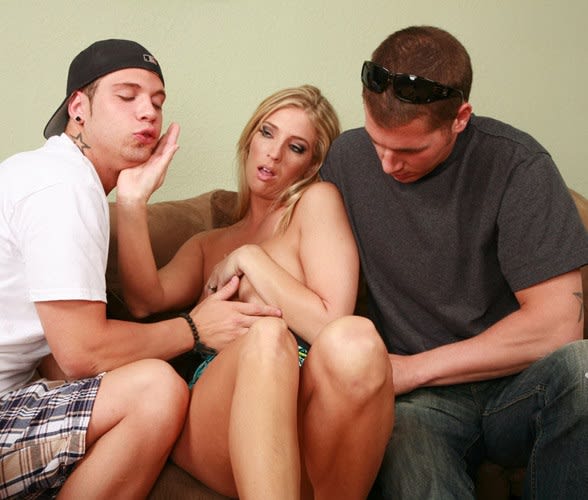 This mom really does get worked up to. At one point she's in the doggy position and has to spit out the cock she's sucking to groan. The cock just lays on her face ready for her to suck again once she's calmed down. Watching that jiggly ass bounce up and down while she looks into the camera moaning is an absolute treat too. I quite liked the spoon position and you get a good look at her hairy muff while she's in the reverse cowgirl. Jordan doesn't do much talking and she needs to be prompted to say how much she likes young cock. The sex is awesome it's just the acting set up is a bit creepy and might send the wrong message. If you haven't seen it get on Milf Seeker or Adult DVD Empire and watch it. If you want it for free I think it's on Whore Stepmom's website, but you better have a look. I give it 3 out 5, great sex, great model but creepy guys who act like sex offenders at times. 
3 out of 5