Best Flavored Lubricants You'll Actually Want to Use
Flavored lubricants don't have to taste like bad candy. These lubes will make oral sex a million times more fun...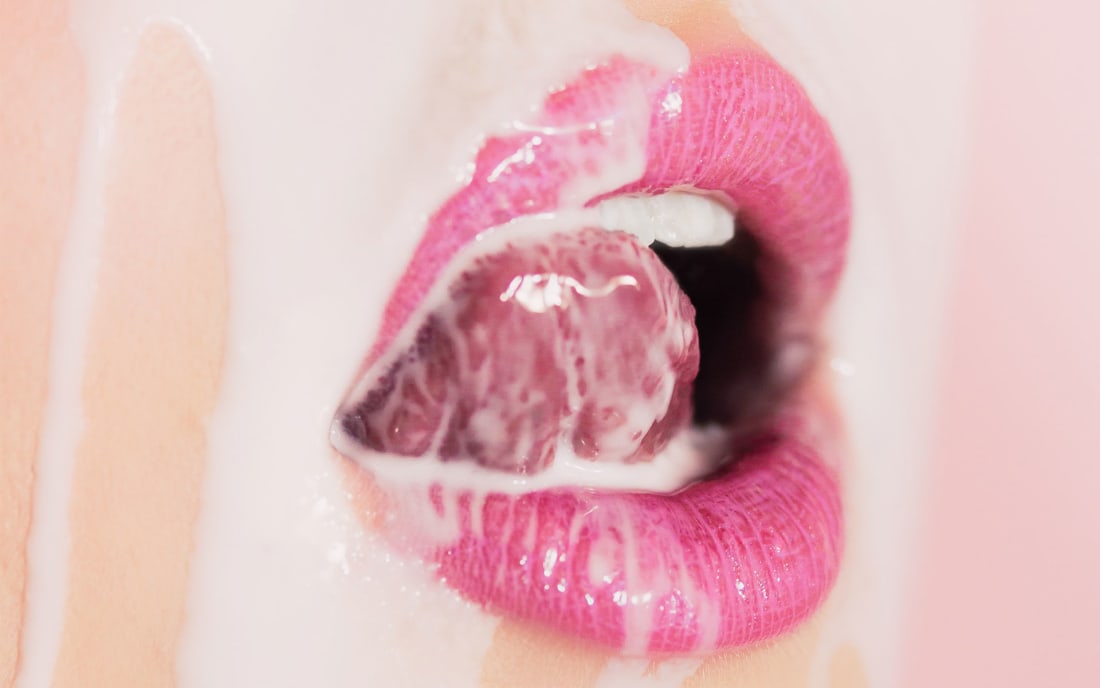 If there's one thing that most sex writers will warn you against, it's flavored lubes. Speaking as someone who's had bad flavored lubricants, the wrong flavor can put you out of the mood faster than anything else. Also, they can burn if you put the wrong ones down there. Ouch, much?
Considering how bad the low-quality flavored products can be, it's not surprising that a lot of sexperts pan flavored lubes altogether. Though I could be one of those people, I'm not. There are some flavored lubricants that are well worth the money — such as the ones below...
Candy Apple by Wicked
Starting off, we're going to talk about Wicked's Candy Apple. It only seems like yesterday that Halloween rolled around, and since we're still technically in the fall season, it only makes sense to get at least one lube that has a fall treat taste. Wicked's Candy Apple tastes just like the real thing, with an extra sweet dash of caramel.
That being said, this can be a bit harsh on sensitive skin. So, you may want to do a quick test before you use it. Most people agree that it has a really sweet taste, with a pretty decent aftertaste, when compared to most other lubes on the market.
Salted Caramel by Wicked
Among Wicked's offerings, Salted Caramel is considered to be one of the most popular. Unlike other flavored lubricants, Salted Caramel isn't overly sweet — but it still has a nice, semi-sweet taste, that most people will find agreeable.
It's a water-based lube, so it works well with sex toys. Surprisingly, their Salted Caramel flavor also is reportedly gentler on the skin than their Candy Apple. Currently, Salted Caramel is one of their top selling lubes. We can totally see why.
Gelato Hazelnut Espresso by System JO
System JO has long been known for making some of the best water-based lubes on the market, and their flavored lubricants are equally awesome. Their Gelato line features incredibly tasty lubes that have the exact flavors you'd hope them to have.
Personally, their Hazelnut Espresso is my favorite. It tastes just like a rich (but sweet) coffee, works well with almost all sex toys for couples, and it's never sticky. If lubes could be labeled perfect, this is a perfect lube.
Gelato Mint Chocolate by System JO
Though this wasn't my personal choice, I do have to hand it to JO for making one of the most impressive mint-flavored lubes I've ever seen. This is one of the only flavored lubes I've seen to have a mint flavor that tastes like mint ice cream.
Also, like the other lubes on this list, JO doesn't burn and i water-based. So, it's sex toy-safe and just plain awesome.
Cherry Vanilla by Sliquid
Sliquid is one of the only flavored lubricants we've seen that doesn't have glycerin or sugar in it — and for ladies prone to yeast infections, that's good news. This means that using this lube will be less likely to cause skin problems or infections.
Cherry Vanilla Sliquid is a great water-based lube for people who love candies that taste like cherry cream sodas. That being said, it's one of those flavors you either love or hate. Those who love cherry candy will love it. Those who hate cherry candy need to look to other flavored lubricants.
Peppermint Personal Lubricant by Aloe Cadabra
Tingly? Yes, and tasty too! This is one of the only flavored lubricants we've found that was specifically designed with vaginal health in mind. It's pH-balanced, doctor-recommended for painful intercourse issues, and also happens to be totally vegan.
It's condom-friendly, toy-friendly, lightly tingly, and also slightly flavored. In other words, it's a great lube for any kind of playtime you may be wanting to try out.
Cotton Candy Oral Sex Gel by Classic Erotica Crazy Girl
If you're looking for one of the best flavored lubricants from an indie company, look no further. This oral sex gel tastes AH-MAY-ZING! This glycerin-based oral sex gel tastes great, feels better, and enhances any kind of oral play you and your partner want to try.
Did we mention it tastes just like cotton candy? Cause, it tastes just like cotton candy.
French Lavender Personal Lubricant by Aloe Cadabra
To date, this is one of the only flavored lubricants I've personally seen to have a floral flavor to it. Believe it or not, it tastes and smells great. A good way to describe the taste is herbal-sweet, with just a touch of violet flavoring to it.
Like other Aloe Cadabra products, this lube is FDA-cleared, doctor recommended, pH balanced, and great for ladies who have difficulty with sex.
Cherry by Anal-Ese
Clearly, this isn't like the other flavored lubricants on this list. Yes, it is flavored, but it's specifically designed for anal-oral sex. This means it's meant to be good for sensitive (like, really sensitive) private parts, and it's also designed to desensitize you back there.
For people who love to give rimjobs before anal, it's safe to say that Anal-Ese is one of the best lubes for anal sex. The cherry flavoring is a nice touch, too.
Sensual Berry Flavor Lubricant by Maple Holistics
Hypoallergenic, petroleum-free, and with a deliciously juicy berry flavor, the personal lubricants made by Maple Holistics are some of the best flavored lubricants for people who really want a natural take on sexual health.
These lubes are specially designed for very sensitive skin, and are water-based. In other words, everyone can use them, and they are absolutely great for folks who love fruit flavored goodies.