Filthy is powered by Vocal creators. You support
Filthy Staff
by reading, sharing and tipping stories...
more
Filthy is powered by Vocal.
Vocal is a platform that provides storytelling tools and engaged communities for writers, musicians, filmmakers, podcasters, and other creators to get discovered and fund their creativity.
How does Vocal work?
Creators share their stories on Vocal's communities. In return, creators earn money when they are tipped and when their stories are read.
How do I join Vocal?
Vocal welcomes creators of all shapes and sizes. Join for free and start creating.
To learn more about Vocal, visit our resources.
Show less
Becoming a Dominatrix
Becoming a dominatrix requires blurring the line between pleasure and pain.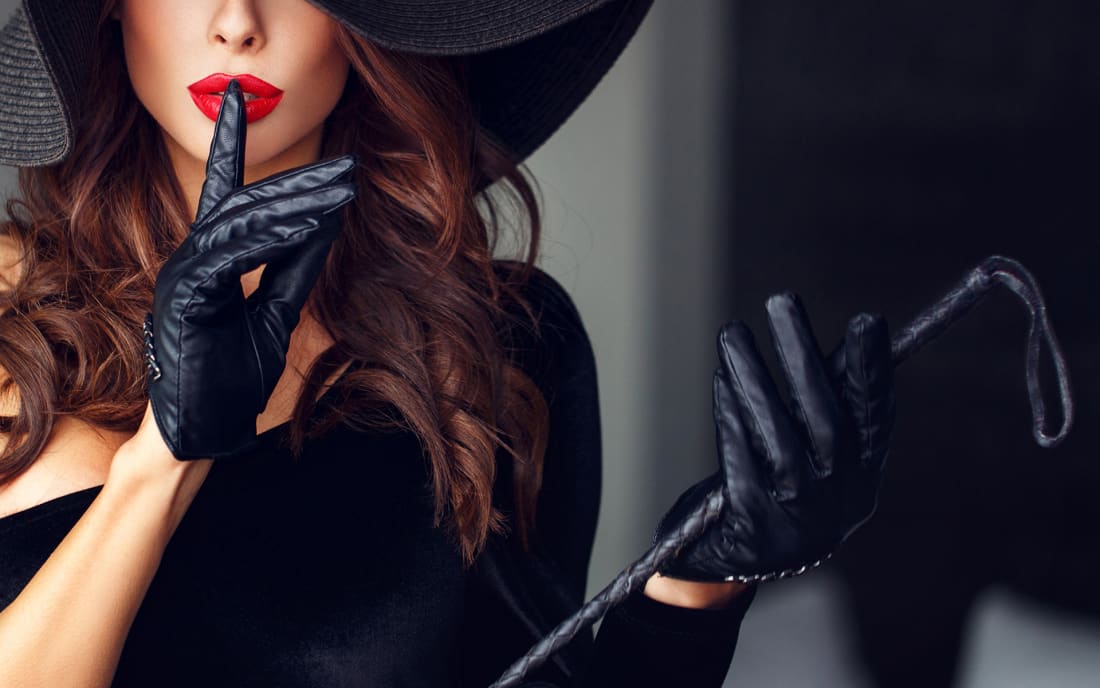 James was ever on the alert for new converts at his club. "Going submissive, too?" he leered at Danielle, nudging her shoulder with his.
"Sure, but only for the experience." Noting the gleam in his eye, she added, "No heavy stuff."
But he wasn't convinced. A dominant, trained 25 years ago at some of the most well-known BDSM clubs, James currently owns three subs. He seems to share the almost universal desire of dominant men to convert a dominant female into a submissive one. He told Danielle she could start the next day.
The club is a pleasant place. Two modern West Hollywood apartments have been converted into a waiting room, a members' lounge, and four dungeons, complete with hoists and cross beams, whips and chains, collars, cuffs and the most ingenious breast shields made of leather pierced through with open studs so that the lightest touch makes the sharp metal press painfully into the skin.
The rack was Danielle's personal favorite, conjuring up all those lovely medieval images of misdirected lust and broken bodies. Danielle was to be trained as a "switch," meaning she would work either dominant or submissive. Looking at the club's vast array of equipment and furnishings, Danielle realized she had a lot to learn.
Colleen, James' wife and No. 1 slave, took Danielle by the hand. She found a costume for her, a long black gown, gathered at the waist and slit high up the sides. Danielle supplied the shoes — last year's spikes from Fred Segal's. Her toenails were dark purple, almost black, and her cheeks shiny. Eyes heavy with shadow, Danielle debated whether or not to remove her glasses. Whether because they made her look safer or more threatening she never found out, but they seemed not to diminish anyone's ardor for Mistress Alexis, the working name she had chosen for herself. They began by doing what, Danielle supposed, many "working ladies" spend a great deal of time doing — sitting around waiting for something to happen. It was noon on Saturday and it was beginning to look like a long day when Caden walked in.
King Caden
Caden was the universally acknowledged King of Bondage, a title he had won when pitted in hand-to-rope combat against Sir James himself. The employees of the club had voted ("at possible expense of their jobs") Caden the king. "You'll love Caden," Colleen told Danielle. "He's really fun, and absolutely everybody goes with him. Even Angelique, who never, ever goes submissive."
Colleen turned to Caden. "Did you just fly in?" she asked.
"Yes," he answered, as he stood in the middle of the small reception room and flapped his bent elbows. "And, boy," he added with a maniacal laugh, "are my arms tired!"
He had plenty of time, he informed us—enough to take us all in turns. "Remember the last time?" he chortled to Colleen. "When I went over my $500-a-day Master Charge limit, and you had to start a running account?"
She did, and they agreed that this time they would just run a tab on the king for the few days that he would be in town. Then they both looked at Danielle and asked if she wanted to go first.
In the few experiences she'd had in the past, she'd always been the dominant. Whether or not she'd enjoyed it, she'd always been the one wielding the whip (if not the actual power). The idea of being submissive to someone, of putting herself in a helpless position, made her uneasy. But it was part of the deal.
All dominants at the club had to go submissive as well. They wanted people who were sensitive to the subtleties of the scene, and that meant knowing both sides. James himself, in his training previously, had gone submissive for two weeks, 24 hours a day, in order to learn the psychology of the submissive, as well as what caused pain or pleasure. Danielle told Caden that this was her first time. She told him that she'd heard he was the king—that she would be learning from a master. He explained bondage to her. There were three kinds: basic bondage, which is simply for the purpose of restraint, bondage for the purpose of causing pain, and sexual bondage. With Danielle, he would practice basic bondage, or aesthetic bondage, as he liked to call it. Caden was like an artist with the ropes. His goal was to make each girl look as beautiful and as perfect as possible based on the limits of her shape, posture, flexibility, and desires. He would never whip a girl, he told her, unless she wanted it. He would never push a girl past her own limits. He wasn't a sadist. He was here to please.
"But you're the dominant!"
"Yes, but that doesn't mean I want to hurt anybody," he explained. "Besides, this is mostly psychological. It's about power—not pain."
She couldn't quite relate to the joy of being mastered, but Caden was completely unprejudiced. He may have been the master, but his goal was to respond to where each lady was at, and in that sense he had an insatiable need for new and different flesh. Danielle's need was simply to find out what it felt like to have her body totally restrained—to be completely helpless before another human being.
And Danielle later admitted that it was fun. Caden was a gentle and considerate master, leaving her in position only long enough to take a good look, continually checking hands and feet for possible loss of circulation. "As long as the extremities tingle," he told her, "you're in good shape. It's when you stop feeling them that you're in trouble."
After trying a few different postures he tied her, hands spread, to the bar that hung from the giant beam. Then he hoisted her until she was on her tiptoes. It was a helpless and unpleasant position and became more so when he placed a hand over one of her breasts and thrust his tongue into her mouth. She responded to his kiss—it didn't seem like an appropriate time to act coy, and he stood back and surveyed her.
"That is the frightening part, isn't it," he asked, "being completely helpless?"
"Yes," she agreed. "And of course," he continued, "you don't really trust me. After all, you have no reason to yet." Then he asked if she'd like to be raised off the ground.
Her shoulders were straining painfully, her wrists hurt and her hands were tingling. But mostly she felt afraid.
"No," he answered for her, "I can tell you couldn't take that right now." And he let her down, untied her last knots and gently told her that she'd had enough. She felt almost disappointed, as if she were being dismissed for having done something wrong. She was also falling in love with this funny-looking man with the bald head and the crazy laugh. After he promised her that they could get together and do this again sometime, he went on to his next "victim."
Foot Pleasures
The rest of the afternoon was slow. But at 7:00 PM the shifts changed and the club began to have some business. Sasha and Angelique, two dominants she'd already met, were on duty that night. Danielle expected to learn from them.
Angelique had encouraged Danielle to participate in the first session at the club. She'd been sitting in the lounge talking to someone, aware of the steady stream of girls parading in and out of the adjoining dungeon. They needed all the help they could get, Angelique told Danielle, and offered to loan the amateur dom her black vinyl "chastity suit." It was a sharply angled, wildly wicked, sexy-looking getup—something like a Playboy Bunny's outfit without the tail. She complemented it with a pair of stiletto-heeled shoes.
Their client, Jerry, liked having his stomach walked on—the more the merrier. So an army of pointy-toed dominatrixes marched across his belly while he directed. "Up, down, feet spread wider please, closer, perfect, don't stop, don't stop, DON'T STOP..." as his voice disappeared in an orgasmic moan.
Danielle watched for a while and then Jerry asked her if she'd do some walking. It was a funny sensation, as though she were grinding his guts into oatmeal. As his look shifted from pleasure to ecstasy, she only hoped it wouldn't take him too long to get off. Danielle was becoming bored and impatient, but it didn't seem fair to stop before he was finished. After what seemed like an eternity of stomping, he told her she could stop, and that she had been very good!
Good! How could he tell? What made a stomach-stomper good or bad? Jerry really didn't know. He only knew that ever since his sister had stepped on his stomach once when he was a child, it was something he'd desired—and something he desired promiscuously. While one woman was enough in a straight sex relationship, his stomach required a constant change of partners.
Aside from this minor peculiarity, Jerry seemed normal enough. A sociology graduate student, he was decent looking, and he told Danielle that he didn't have any problems with ordinary sex. In fact, he preferred sexual intercourse. His only problem was his difficulty in finding women who were willing to walk on him. Even within the B&D scene, he was an oddity; many traditionally dominant females considered stomach-stomping to be pretty weird. Jerry was grateful that he could satisfy his unusual desire at places like this club.
It had been a pretty unusual first session for Danielle, but Angelique's session that night with Chris promised to be more typical—and certainly more fun. Chris was a naughty little boy; they were two beautiful, desirable women whom he wanted desperately and obviously couldn't have. They were there to punish him for his "misdeeds."
Tied just tightly enough so that he couldn't move around freely, with a cute little bow around his cock and balls, Chris whined and pleaded and begged to be allowed to kiss their feet. Just once—just a little bit. Danielle and Angelique paraded around, tantalizing, seductive, ever so beautiful and unobtainable. They discussed him between themselves. He'd gotten a little fat, didn't Danielle think? He was such a whiny baby. What made him even hope that he might stand a chance with Mistresses Alexis and Angelique?
They wrestled with him, always winning, and pulling away from his grasp just as he came close to touching them. They tormented him — clothespins on nipples, ropes pulled just a little too tight. His erection came and went while he continued to beg and whimper and act like a very sweet little child. At the very end, Angelique allowed him to jerk himself off, ending the session, as well as his desire to kiss their toes.
When the session was over Chris wanted to talk to Danielle, who he had only known now as Mistress Alexis. He told her he was an aerospace engineer in his early 30s. He'd been married for eight years to a woman who was sexually inhibited. He'd played cowboys and Indians as a child, and he'd always preferred being the tied-up "captive." Chris felt burdened by his submissive compulsion. Sometimes the desire became so strong that he simply had to find relief, but the process was expensive and required much subterfuge. He and his wife had a baby, and he felt guilty about the money and time that he took from them.
What he really wanted, he told her, was to make love to a woman who would call the shots, who would demand that he kiss her, that he lick her sensuously all over her body. "The shoes are a game," he said. "The theatrical lingerie is unnecessary." Chris told her about a session he once did with Laura. The bondage scene had been newer to him at the time, and his cock had stayed hard throughout. While wrestling with him, Laura had rubbed herself against his cock—and come seven times. "She just came and came and came," he said proudly. Chris was such a nice person, and what he wanted was so simple—a woman who got off on him, rather than just tolerating him.
Danielle enjoyed getting to know the club's clients. She shared more intimacy in a few moments with some of them than many share with people, even lovers, whom they've known for a long time. The social veneer is stripped away. What is revealed are the deep parts of a person's psyche.
Danielle began to like the people she met, realizing that these people, in their ordinary lives, were not much different than people she had encountered throughout her own life. Danielle also came to the realization that she had not yet had anyone beat up on her. 
Sharing is Caring
During the next few days Danielle got to know the people of the club, and she found out something more about the relationships between them. Colleen was not only Jim's slave, but also his wife, and he had two other slaves—Francesca and Lacey – who worked at the club as submissives. Colleen is just under six-feet and powerfully built, yet considers herself James's property.
Sasha was submissive to Danny, one of the clubs's managers, although she worked as a switch. They had tried a master/slave relationship, but it hadn't worked out. Both agreed that it had seemed contrived and a bit ridiculous. Also, Sasha told Danielle, when she had started being seen as Danny's slave she was certain people treated her differently, with less respect than before. That made sense, though everybody seemed to have enough respect for Colleen— more perhaps than for James, her master and the master of the club.
Everybody at the club was, as James had originally informed her, into the scene to some extent in their private lives. Mistress Laura was submissive to her boyfriend, while Mistresses Angelique and Paige were dominant at home, as well as on the job.
The role of master or mistress became slightly clearer to Danielle when she talked to Paige, a Canadian lady with a submissive husband and two full-time submissives. Not slaves, she was quick to inform Danielle—slaves are much more of a commitment, a lifetime commitment, like marriage—but men who were being trained to be perfect submissives.
"The master or mistress wishes to bring out the best of their slave," she explained. "Let us say that they are lazy—then the master or mistress takes care of it properly. Do they procrastinate? That, too. Are they flighty? It requires training to bring out the best in a person so that the master or mistress can have the best of their slave. It entails a tremendous amount of responsibility. It entails a tremendous amount of thought, but the end results can be absolutely beautiful."
Happy Horny Halloween
The following week, the club held its membership Halloween party, and Danielle had to decide what to wear for a costume. From a box of old clothing she pulled some pink snuggy pajamas with the trapdoor seat and the built-in feet. She bought a Raggedy Ann wig which she tied in big yellow bows, and painted on enormous lashes and big round freckles. Then, grabbing her old teddy bear, she went as a submissive. The first person she saw was Jack, a wealthy regular of the club, who gazed with appreciation at her baby outfit and asked her about the drop seat. She lowered it for him provocatively before retying the string loosely around her waist. His eyes riveted to the bare flesh of her waistline.
Upstairs, the club was mobbed. Danielle grabbed a drink and made her way among the friends she'd made in the short time she'd been there. They all seemed to like her outfit, especially those dominant men who valued a spankable or whippable bottom.
Then James asked if she'd act in his skit. All she'd have to do, he explained, was be tied to a pole and have a flashlight stuck in her mouth. "Dressed or undressed?" she asked.
"Well, I prefer undressed," he said. 
"I'll do it," Danielle told him, "if I can keep my pajamas on." He agreed.
They were to be a tableau—Francesca, Lacey, Renee, and Danielle—one master's fantasy. And Caden came in to help James tie the knots. With a piece of sheet glass suspended between their naked breasts, Francesca and Renee were transformed into a coffee table. Lacey, compressed and trussed, was the footstool, and Danielle, tied to a bent aluminum pole, the promised flashlight between her teeth, was the floor lamp. When the doors were opened, the assembled guests found themselves enjoying "a quiet evening at home with the master." James sat in a chair, his feet up on Lacey's footstool, his glass supported by the Renee and Francesca table, and his reading illuminated by the Alexis lamp.
Couple's Play
While a good 90 percent of the customers at the club were men, an occasional woman would appear, usually as half of a couple. Among these couples, Jay and Nina were probably the most exciting.
Jay was a tall, handsome man in his late thirties; Nina, a petite, voluptuous blonde of about 25. They wanted to rent a dungeon for a few hours. When Danielle was called in to assist, Nina was hanging demurely from the hoist, the metal-studded breastplate piercing her lightly. Jay pulled at her nipples to get them through the holes in the shield, and Nina displayed a shuddery little smile. If Jay weren't the most authoritative master in the world, Nina may have been the most provocative slave. Danny, Sasha, and Danielle were there to help train her. Danielle was handed the leather paddle and asked to spank her buttocks. She gave Nina a rather gentle whack. Nina's body writhed seductively.
"Thank Mistress Alexis," Jay ordered. She looked up with melting baby eyes and whispered, "Thank you, Mistress Alexis. Thank you so much."
Seeing this incredibly beautiful body strung up and helpless, lovely in her humiliation and pain, Danielle began to realize what a turn-on domination could be. She simply had to forget that she was a human being—that she was anything more than an object to give someone pleasure. And much as it went against the grain for Danielle, it wasn't very difficult to do.
"She's a very wonderful slave," Sasha told Jay. "You're very lucky to have found each other. How did you happen to know that she was a slave?" "I told her," answered Jay. And Nina continued to hang there smiling, like a beauty queen in cold storage.
While dominants such as Jack, Caden and Jay seemed to capture Danielle's attention, they were in the minority at the club. Many submissive men came there. Their specific requirements varied in terms of degree of punishment, level of eroticism, and type and means of humiliation and restraint. But they were all alike in one respect: each wanted more than anything to be subjugated to a beautiful and powerful woman.
As things were turning out, it didn't appear as though James would have another convert on his hands. Danielle found the club's bondage and dominance trips fun and interesting until they began to get heavy. Soon she wanted to escape back to the more familiar power games found in "normal" relationships. The only time she wanted to hit anybody was when he or she got her angry. "I don't want to be a dominant or a submissive," Danielle complained to Caden one evening a couple of weeks later. "I just want to be friends with people."
"I think that's right for you," he said. "But before you leave, maybe you'd like me to whip you a little, just so you can find out what it feels like. I wouldn't go any harder than you want. After all, that is why you're here, isn't it—to experience different things?"
Her eyes drifted toward the dungeon, and Danielle visualized the neat rows of implements: ropes, cuffs, riding crops, cats, etc. Here was a man she could trust. She knew Caden would never hurt her—not for his own pleasure, anyway. And it would be interesting to know what it felt like to be whipped. Danielle had never allowed anybody to strike her before.
She sat still for a minute, trying to decide whether or not to peel back another layer of herself, while Caden watched with gentle eyes. She checked the time on her cellphone and she rose. Starting to walk, Danielle motioned her dominant friend to follow her to the dungeon for the final time.