Banned MTV Music Videos
Banned MTV music videos set the stage for the future of nudity and obscenity in music videos.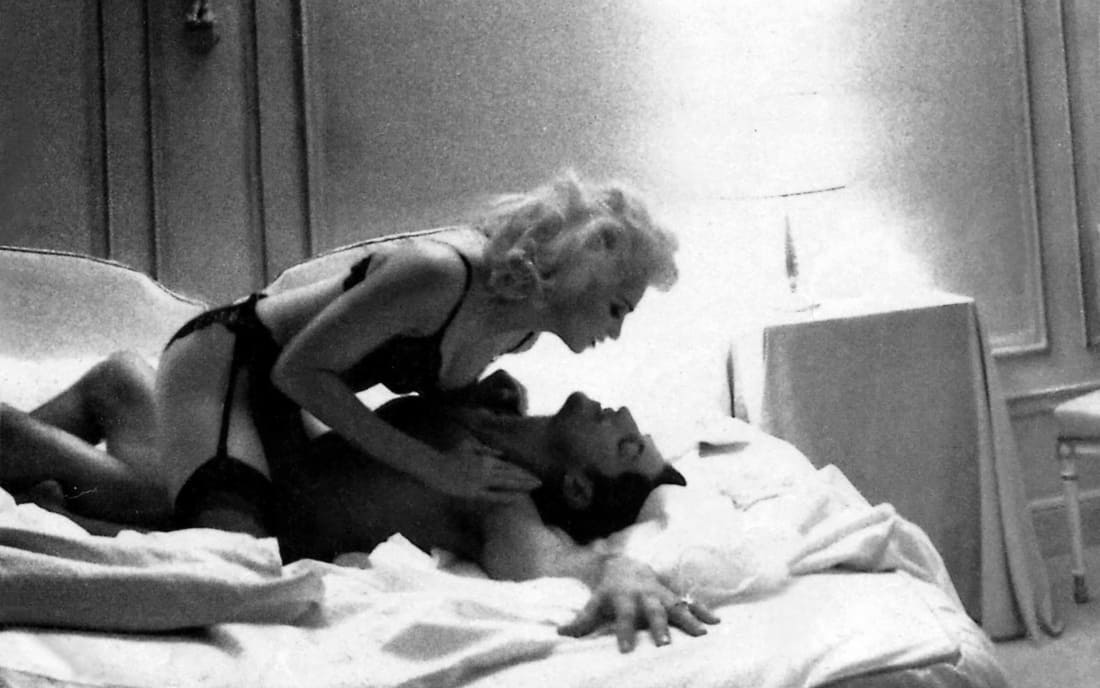 As sinuous synthesizer chords fill the air, the camera zooms through the soft, sensuous lighting and focuses on a woman's hand. The camera pans down from her hand to her feet, and then slowly travels up between her legs, past her silken blond bush, up past enormous tits, complete with gigantic erect nipples, and finally arrives at her horny, inviting face.
The scene changes—the woman teases us with erotic poses as she begins fondling her oversized tits. An animated Polaroid snapshot appears, and out of it emerges another equally-luscious blond.
The action melts into the shadows of a room and the two women begin kissing each other's breasts. When they're done, one girl gets up while the camera zooms in on the other's scantily-clad crotch. The action ends with a flurry of erotic activity; the two women grab each others' cunts and writhe for the camera.
Kevin Koffler's description above is not a synopsis of a new porn flick, but of the more provocative parts of an explosive meeting of high tech video, music, and sex. Through the exposure of their promotional video clips on MTV, Nightflight, and through other music video outlets, recording artists have found that sex, as in every other visual medium, attracts new followers. Peter Godwin, whose video for his song "Images of Heaven" was described, feels that video gives musicians of whole new canvas to work on. "When we started out, we were just doing it for fun," Godwin said from a London recording studio. "The idea behind the song was to show that women of desire don't exist. They are just products of certain lighting, certain photographer, and a certain environment.
"We all compare our girlfriends to these women, and our girlfriends aspire to be like their idols, but in reality, they're aspiring after fantasy. I think the video is more erotic than dirty. It takes all men's fantasy of two women, and displays with the idea of sexual fantasy. It's provocative, calls attention to the record and it adds another dimension and another creative medium to the song."
Evolution of Music Videos
Kevin Koffler was a writer when the wave of video music hit, and he followed it closely through its course. Much of the video music explosion can be directly attributed to Warner Amex Music Television, MTV. The channel first hit the air in 1981, and as a cable channel it reached more than eight million homes in its first year. MTV, which at one time featured strictly music videos (hence Music Television) went on to show additional programs, such as the after school special TRL, heavy metal lovers' Headbanger's Ball, unscripted shows including Room Raiders, and eventually reality shows, such as The Newlyweds with Jessica Simpson and Nick Lachey, The Hills, and Teen Mom.
But before the channel named for Music Television became a reality series hub, it was a way for artists to get their music and their videos out to the world. "There can be little doubt that MTV has played both a direct and indirect role in the sales of our records. It has opened a whole new visual and aural area to an audience which, until MTV came to town, had never had exposure to some of these groups," says Derek Shulman, director of A&R for rock music at Polygram Records.
"Over the past few years, radio has constantly told record companies that anything that didn't sound like everything else the radio was playing either didn't 'fit the format' or was 'not for their audience.' It is obvious to us that MTV has helped us sell Def Leppard, Bananarama, ABC, etc. These bands have grown out of the active audience that will help keep this business alive."
Duran Duran once packed up a film crew and traveled to Sri Lanka to find an authentic locale for their video, "Hungry Like a Wolf." David Bowie journeyed to the Australian Outback for "Let's Dance." Taylor Swift's "Wildest Dreams" was shot in Africa, complete with wild animals. Coldplay's "Head Full of Dreams" was shot in Mumbai, and the group even participated in the festival of colors. Groups are taking advantage of state-of-the-art video wizardry to create abstract designs that keep time with and enhance the music.
If a music video conformed to MTV's strict programming format and was not too drenched in sex or violence, it almost certainly got a shot on the channel. "If a video conforms to our standards, it will definitely be shown on MTV," said John Sykes, co-founder of MTV. "As for as too much sex and violence, you have to bear in mind that the whole country does not run by New York's morals and standards (or lack of them), but in MTV's early years of operation, only five videos were banned. They are Duran Duran's 'Girls on Film,' Peter Godwin's 'Images of Heaven,' Van Halen's 'Pretty Woman,' Golden Earing's 'Twilight Zone' and Berlin's 'Sex (I'm A).' But that wasn't the end. Madonna's 1993 song, 'Justify My Love' was banned for its at the time "taboo" themes within the video.
Sexual and risqué music videos have come a long way. Today, there are more sexy than there are banned music videos produced each year. Are we numb to it as a result of Duran Duran and Madonna's work in the past? Or are we just so oversexualized on a daily basis that the shock value is gone? Or have we grown as a society and realized that a human body is not the be all end all of life? Stars like Rihanna, Robin Thicke, and many others have emerged after the banned music video era, and as a result, their videos feature nudity in a way that seems as natural as brushing your teeth.
Pretty Woman by Van Halen
Van Halen's "Pretty Woman" clip shows that looks can be deceiving. Banned by MTV because of its explicit violence and subject matter, the video opens in suburbia USA.
Two little people are beating the shit out of a gorgeous woman they have tied up between two posts. Dressed in a white mini-skirt, a sheer white shirt and spikes, the woman is any guy's fantasy girl: long blond hair, blue eyes, great legs, and gargantuan tits.
The little people continue to abuse the woman, grabbing at her tits and crotch. As they begin to hump her, a filthy old bugger catches wind of what's going on. After a near-spontaneous ejaculation, he turns moralistic and calls out for the troops or, in this case, Van Halen.
The band comes to the rescue: one dressed as a cowboy, one as Tarzan, one a soldier from the French Revolution, and one a knight in shining armor. The little people are about to get their heads bashed in. The gorgeous woman pulls her wig off, and we see that Van Halen's pretty woman is actually… a pretty boy.
Sex (I'm A) by Berlin
Berlin's "Sex (I'm A)" video features Terri Nunn as a sex-starved slut and another member of the band as her more than willing partner. During the course of the video, Nunn tells us she is a "slut, a blue-movie bitch, a little girl, a geisha, a bi, a one night stand, a slave," and she provides us with the visuals to back up her claims.
As the video opens, we are sucked through the a luscious pair of lips and proceed to cruise through the streets of nighttime Downtown LA. The result is a titillating explosion of sight, sound, and synthesizers.
We end up at a man's studio with tons of mannequins and fabric. The man is busy at work designing erotic clothing. Cartoon models jump off the paper, thrusting their huge tits out of the screen. He caresses a mannequin—dressing it and undressing it as if it were real. As he begins feeling the plastic tits, the scene shifts to gorgeous Terri Nunn.
Nunn serves as his golden-haired goddess. She waits in her bedroom dressed in a slinky negligee. The surreal action moves to a party, an orgy of food... Suddenly Nunn is in bed with the guy and passionately making love. The clip ends as the duo simultaneously climax.
Girls on Film by Duran Duran
Although Duran Duran's "Girls on Film" begins innocuously, its eventual sizzling sexual imagery combined with explicit nudity and lesbian encounters create one of rock and roll's hottest videos.
The clip begins when a couple of normal-looking women dressed in street clothing come into the studio, which is being prepared for the video shoot. The band is shown warming up while the girls are making up. The crew finishes the last set details. At last, everything is ready to go.
The lights go soft and the girls walk down a runway dressed only in sheer black negligees and thin, black lace panties. Nipples protruding, hot-to fuck looks on their faces, the girls reach the end of the runway. The dark-haired girl mounts a post covered with cream. She begins thrusting her hips, and slowly humping the post.
After a sexy pillow fight, the two girls are covered in feathers, and they kiss and touch each other as they enjoy a glass of champagne. Now it's the blond's turn to show her stuff. With her hair slicked up to a single point, she once again comes marching down the runway, her humungous tits jutting out of a see-through white sequin shirt. She wrestles a 400-pound sumo wrestler and wins. Then the scene switches to a massage room.
Dressed as a nurse, the dark haired girl squirts baby oil all over the sumo wrestler's back. She begins rubbing him down, but out of the corner of her eye, she catches a glimpse of the blond leading a Black man around as her slave. She sees the girl rubbing her hands down his dark ass, the man squirming and jumping in ecstasy.
Again the dark haired girl appears, but this time dressed in a skimpy bathing suit. She falls into a baby pool with one of the band's members, grabbing him and shoving her tongue down his throat. She gets out of the pool, and the scene cuts to the dressing room.
Here, the girl slithers out of her bathing suit and begins to masturbate, massaging her naked body. In a frenzy, the girl takes a cube of ice, and rubs it on her nipple until it's hard and erect. In the final scene, the duo appear topless in a mud wrestling contest. They fight with each other, grabbing bare breasts as they fumble. The clip ends as they hose the mud off to reveal their more-than-desirable bodies.
Justify My Love by Madonna
The video begins with an abstract dancer front and center in the screen, then cuts to Madonna walking down the hallway in a trench coat while carrying a suitcase. As she walks down the hall, she passes an open door where a woman is standing in a lace ensemble.
Madonna leans against a wall and starts touching herself before she is met by a man who begins to kiss her. The video travels from room to room of the hallway where we see a woman being fitted into a corset by a man with leather, and the other individual dancing in a room alone.
Madonna and the man are in a room where she lets her hair down and takes off her jacket to reveal a lace bra. The man removes his shirt and gets on top of her on the bed.
Madonna and a woman fall into bed together. They remain kissing and touching as the man looks on from a chair. The abstract dancer returns to the screen, and Madonna spends more time with the man in bed.
A woman in nothing but suspenders and leather pants enters the room. She dominates a man in a leather vest.
The scene cuts back to Madonna in lace underwear on top of the man.
Towards the end of the video, scenes change quickly to different couples and groups as they enjoy one another in bisexual, voyeuristic, and BDSM situations. The video ends with Madonna in her trench coat again, walking quickly down the hallway with a smile on her face.
Perhaps it's the over sexualization of current generations, but many people aren't shocked by nudity or vulgarity the way they were in the past. In its prime, MTV was full of videos that featured half-naked girls and sexual innuendo. Today, the artists typically appear naked themselves.
Bitch Better Have My Money by Rihanna
The seven-minute video opens with an old chest in a grassy yard. Birds are chirping and the sun is shining, but the odd thing about this antique chest is the pair of legs sticking out of it. The scenes switch between a blond wealthy woman getting ready in a see-through bra and an angry, serious Rihanna.
The blond woman enters an elevator that is occupied by Rihanna, and she exits in an antique chest pulled by the artist. The blond woman is seen topless in the back of a convertible. She later swings upside-down from the ceiling of an old barn in bondage-style ropes.
Rihanna and her friends spend time on a yacht, and then in a crummy motel room where they get high and drunk.
As Rihanna chooses a weapon, we learn of the atrocities the blond woman's husband committed against her. He is tied to a chair in a room that is protected with plastic coverings. The video then cuts back to the grassy yard where the birds are still chirping. The camera pans around to the open side of the chest. We learn that the legs inside the chest are actually Rihanna's—she is naked, covered in blood and money, and smoking a joint.
Blurred Lines by Robin Thicke
The video opens with Robin Thicke fully-clothed and in bed with a topless Emily Ratajkowski. The rest of the video cuts back and forth between Pharrell and Thicke and scenes with models Ratajkowski, Elle Evans, and Jessi M'dengue. The models wear nothing but a nude-colored thong and red lipstick as they dance in front of a pale pink wall.
The bright, simple background in the video allows the viewer to clearly see the women as they walk and dance around the set.
The models are featured holding goats, riding bikes, playing banjos, and more. Some scenes feature the girls clothed in crop tops and booty shorts, but for the most part, they are topless.
Work by T-Pain
The video opens with a topless woman overseeing the work of other topless women in a dark workshop. The video continues with T-Pain rapping alongside shots of women only in underwear, heels, and surgical masks.